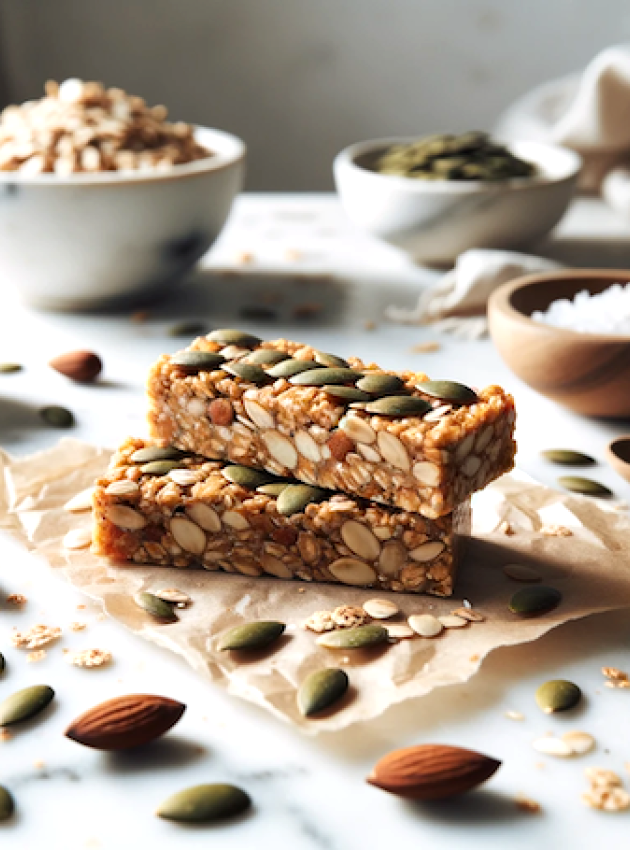 Discover our nutritious oat bars, packed with fiber, almonds, pumpkin seeds, and cinnamon, perfect for a healthy and energizing snack.
Ingredients
750 ml (3 cups) quick-cooking oats
125 ml (1/2 cup) unsalted, untoasted almonds
125 ml (1/2 cup) pumpkin seeds
125 ml (1/2 cup) wheat bran
15 ml (1 tbsp.) ground cinnamon
1 ml (1/4 tsp.) salt
60 ml (1/4 cup) maple syrup
1 egg
1 egg white
Preparation
Preheat the oven to 175°C (350°F). 
Line the bottom of an 8 x 8-inch (20 x 20 cm) square Pyrex dish with a large piece of parchment paper, leaving enough overhang to cover the bottom. 
In a large bowl, mix together the oats, almonds, pumpkin seeds, wheat bran, cinnamon, and salt. 
In a small bowl, combine the remaining ingredients. 
Add the liquid ingredients to the dry ingredients and mix well. 
Transfer the mixture to the Pyrex dish and press it firmly. 
Bake in the oven for 30 minutes. 
Allow to cool completely. 
Carefully loosen the edges using a knife. 
Using a chef's knife, cut into 12 portions.
Notes
The bars can be stored in the refrigerator for up to one week or in the freezer for several months.