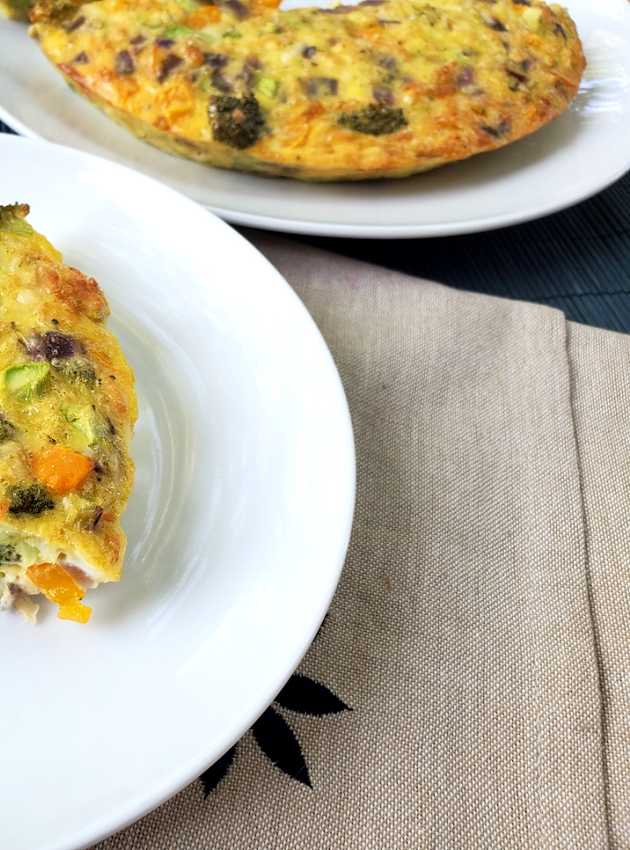 Discover the delightful flavors of our Crustless Quiche, a healthier version of a beloved classic. Bursting with wholesome ingredients, this crust-free delight offers a savory experience for all!
Ingredients
500 ml (2 cups) broccoli (about 2 heads), chopped
1 orange bell pepper, diced
125 ml (½ cup) red onion (about ½ onion), diced
125 ml (½ cup) nutritional yeast flakes
250 ml (1 cup) quinoa flour (or regular white flour)
30 ml (2 tbsp) vegetable oil
5 ml (1 tsp) dried basil
5 ml (1 tsp) baking powder
1 ml (¼ tsp) salt
2 eggs
160 ml (⅔ cup) egg whites, equivalent to the whites of 6 eggs (see note)
Note : It is possible to buy egg whites in a carton at the grocery store.
Preparation
Preheat the oven to 350°F (180°C). Oil a pie pan, set aside.
Combine all the ingredients in a large bowl and mix well.
Transfer the mixture to the pie pan.
Bake for 35 minutes, then let cool for 5 minutes before cutting and serving.
Notes
Can be kept for 3 days in the refrigerator in an airtight container.