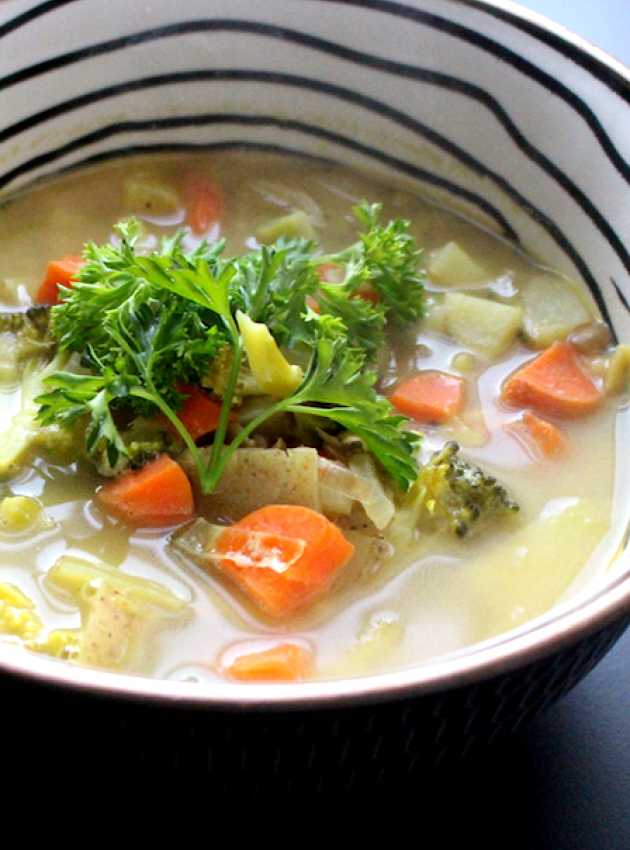 Discover our delicious comforting soup recipe, perfect for chilly days. Made with fresh and flavorful ingredients, this soup will warm your body and soothe your soul.
Ingredients
15 ml (1 tbsp) avocado or olive oil
1 onion, diced 2 cloves garlic, chopped
30 ml (2 tbsp) chopped ginger
250 ml (1 cup) diced potatoes
250 ml (1 cup) carrots, cubed
375 ml (1 ½ cup) broccoli, cut into small bouquets
5 ml (1 tsp) turmeric
1 ml (1/4 tsp) cayenne pepper
30 ml (2 tbsp) food yeast
Salt and pepper to taste
5 cups of sodium-reduced vegetable broth
30 ml (2 tbsp) natural peanut butter
125 ml (1/2 cup) rinsed dry green lentils
Fresh parsley (optional) Lemon juice (optional)
Preparation
In a large pot, sauté the garlic, onion and ginger in oil over medium-high heat for about 7 minutes.
Add potatoes, carrots and broccoli and stir.
Add the turmeric, cayenne pepper, yeast, salt and pepper and mix again.
Add the broth, peanut butter and lentils to the preparation.
Boil for about 20 minutes uncovered.
Just before serving, add lemon juice and fresh parsley if desired.