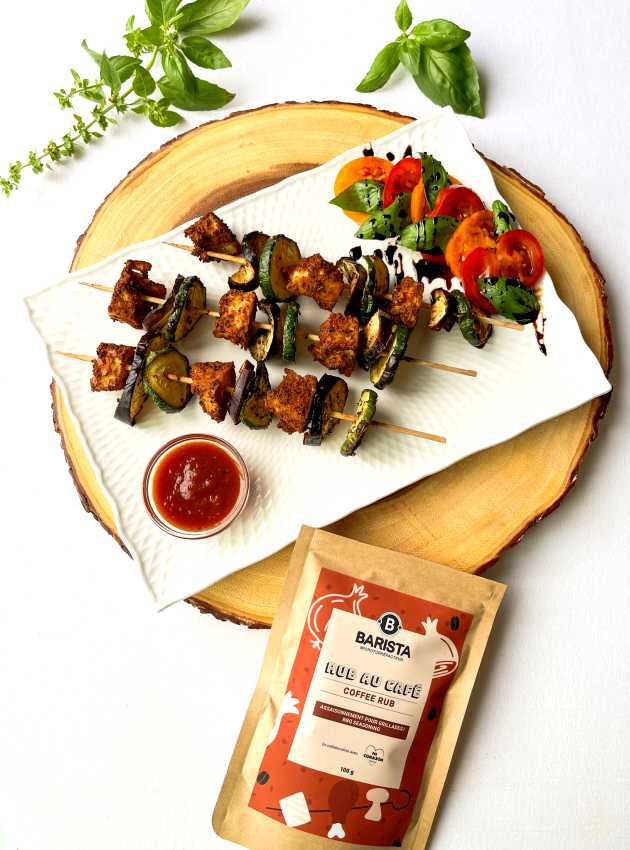 If you often eat tofu the same way, you'll love these skewers seasoned with Barista brand coffee rub. This seasoning will give your tofu an explosion of flavors. Plus, there's no need to fire up the barbecue for this recipe as it only requires an air fryer! Simply add a side of starch for a complete meal, such as our low FODMAP millet Greek salad.
Ingredients
1 block (454g) of extra-firm tofu, pressed
60 ml (¼ cup) Barista brand coffee rub
1 medium-sized eggplant, halved lengthwise and sliced into rounds
1 medium-sized zucchini, sliced into rounds
15 ml (1 tbsp) olive oil
15 ml (1 tbsp) lemon juice
10 ml (2 tsp) dried oregano
Salt and pepper to taste
Preparation
Break the tofu into bite-sized pieces using your fingers.
Coat each piece of tofu with the coffee rub. Let it marinate in the refrigerator for 2 hours or overnight in an airtight container.
In a medium bowl, combine the vegetables, olive oil, lemon juice, dried oregano, salt, and pepper. Mix well.
Assemble skewers, starting with a piece of zucchini, followed by a piece of eggplant, and then a piece of tofu. Repeat with the remaining ingredients.
Cook in the air fryer at 200°C (400°F) for 12 minutes, turning the skewers halfway through cooking.
Notes
Can be stored in an airtight container in the refrigerator for 7 days. Do not freeze.