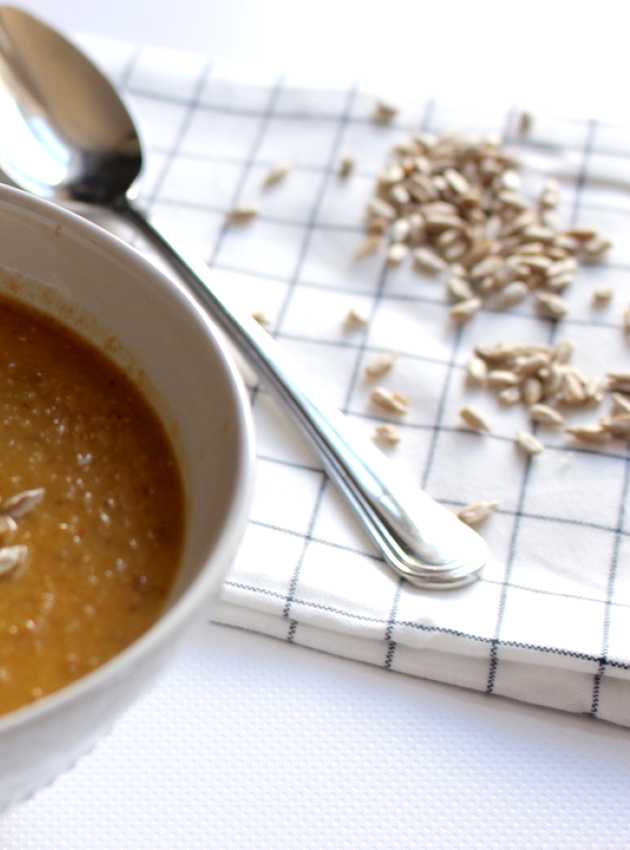 Discover a delicious autumn soup that will warm your taste buds with its comforting blend of flavors.
Ingredients
5 ml (1 tsp) of oil 1 red onion, chopped
2 carrots, cut into slices
5 ml (1 tsp) minced garlic
250 ml (1 cup) celery, diced
1 medium sweet potato, diced
125 ml (1/2 cup) dried green lentils, rinsed and drained
1 L (4 cups) vegetable broth
60 ml (¼ cup) of yeast
15 ml (1 tbsp) Dijon mustard
5 ml (1 tsp) of chili powder
15 ml (1 tbsp) sunflower seeds per serving (optional)
Preparation
In a pan over medium heat, brown the onions in oil for 5 minutes while stirring.
Add carrots, garlic, celery, sweet potato, lentils and mix it well.
Add the vegetable broth and add the nutritional yeast, the Dijon mustard, the chili powder while mixing again.
Cover and let simmer for about 25 to 30 minutes or until the lentils are cooked.
Pass the soup to the blender for about 1 minute or until everything is smooth.
Pour into bowls and serve by sprinkling some sunflower seeds.