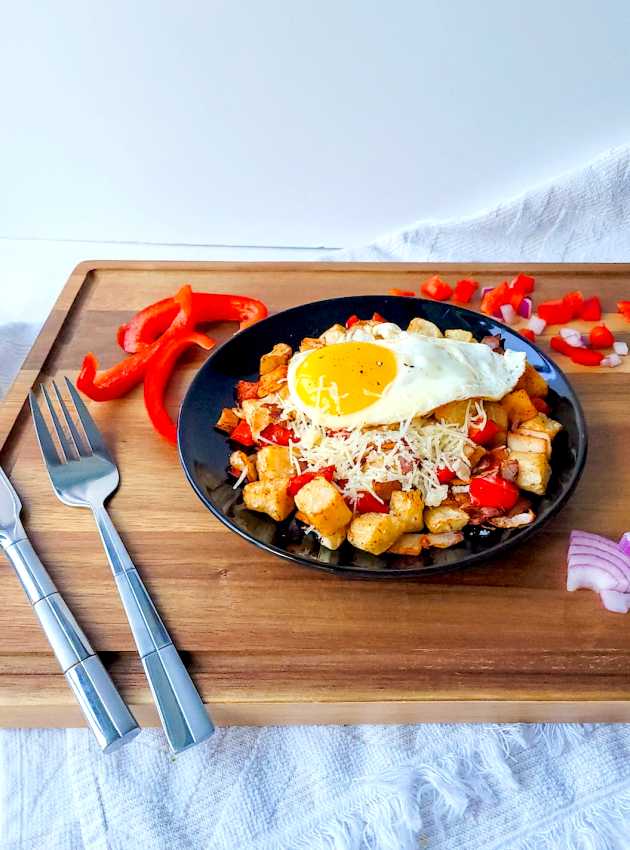 This restaurant-quality breakfast casserole combines speed and healthiness, boasting nearly 30g of protein and 4g of fiber to keep you satisfied until your next meal. Plus, it's so quick and easy to make that you'll want to enjoy it again and again!
Ingredients
1 can (540 ml) diced white potatoes, rinsed and drained
8 slices (about 120g) lean turkey or ham for sandwiches, roughly chopped
½ red onion, chopped
½ red bell pepper, diced
5 ml (1 tsp) of chili powder
Pepper and salt, to taste
80 ml (⅓ cup) light shredded mozzarella cheese (< 20% milk fat)
2 eggs
Preparation
In the air fryer basket, spray the diced potatoes with cooking spray and cook for 10 minutes at 375°F (190°C).
Add the turkey, onion, red pepper, chili powder, pepper, and salt. Mix well and continue cooking for another 10 minutes, stirring halfway through.
Meanwhile, in a skillet over medium-high heat, cook the two eggs to your liking (over-easy, sunny-side-up, scrambled, etc.).
Divide the potato mixture onto two plates, then top with shredded cheese and a cooked egg.
Notes
Can be refrigerated for up to 3 days. Not suitable for freezing.