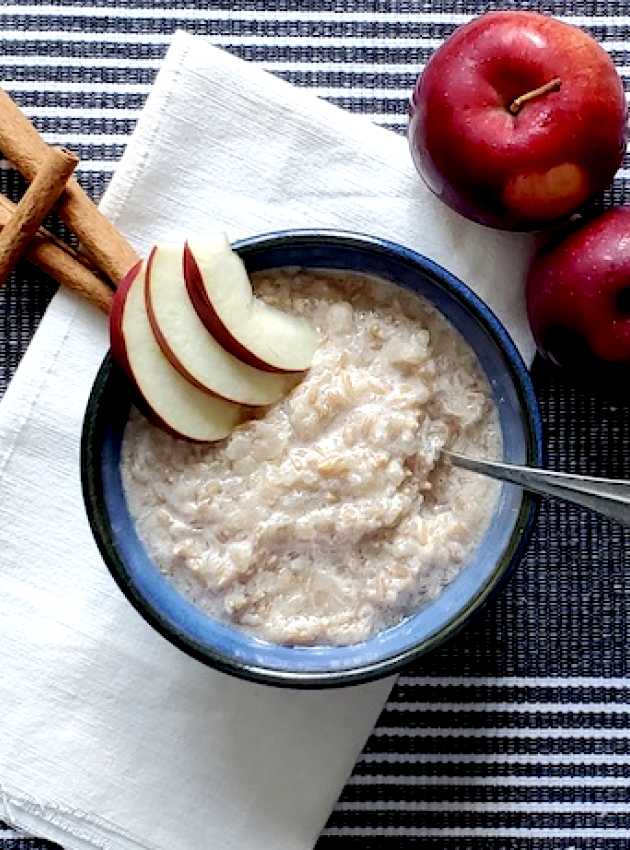 Indulge in our flavorful Cinnamon Apple Barley Pudding. This comforting recipe combines the sweetness of apples with the warm aroma of cinnamon to create a healthy and delicious dessert option. Perfect for a cozy treat!
Ingredients
500 ml (2 cups) water
125 ml (½ cup) pearled barley
4 apples, peeled and grated
500 ml (2 cups) 1% milk
60 ml (¼ cup) all-purpose flour
7.5 ml (1 ½ tsp) ground cinnamon
250 ml (1 cup) plain Greek yogurt 0% M.F.
10 ml (2 tsp) vanilla extract
5 ml (1 tsp) brown sugar or maple syrup, per serving (optional, to taste)
Note: Pearled barley can be substituted with hulled barley. Soak hulled barley in water for at least 4 hours before using to reduce cooking time.
Preparation
In a medium saucepan, pour water and place barley and grated apples. Bring to a boil, cover and simmer over low heat until barley is tender (about 30-35 minutes). Set aside.
In a second medium saucepan, combine milk, flour, cinnamon and vanilla. Heat over medium heat until boiling, stirring constantly with a spatula. Cook for 2-3 minutes, the mixture will thicken. Remove from heat.
Add yogurt and barley mixture to the second saucepan and mix well.
Serve cold or hot with brown sugar or maple syrup, to taste.
Notes
Can be stored for 3 days in the refrigerator in an airtight container.