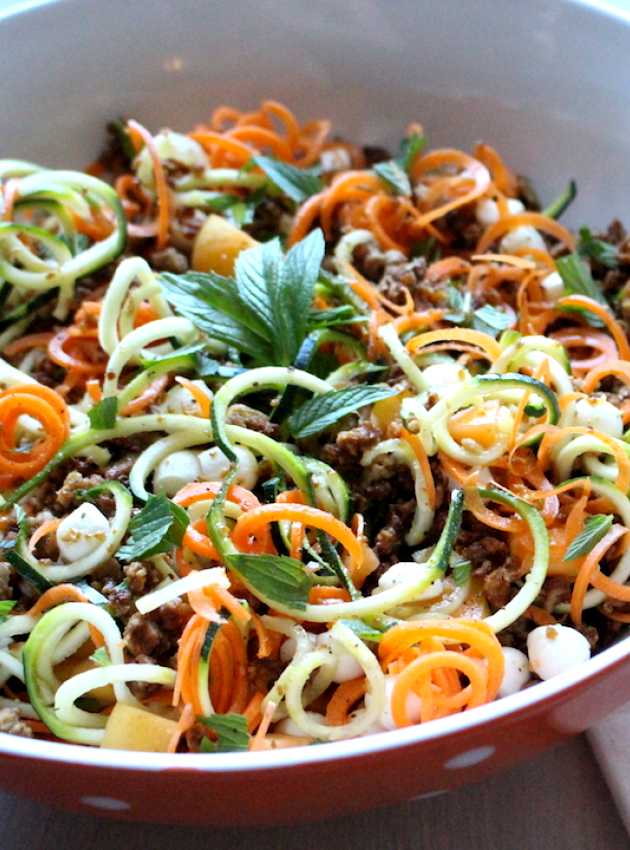 Discover a delicious summer salad that combines the vibrant flavors of crunchy vegetable spirals, juicy apricots, creamy bocconcini cheese, and fresh mint leaves, all complemented by your choice of meat. A balanced blend of textures and tastes that will delight your taste buds from the very first bite.
Ingredients
2 zucchini
2 carrots
3 apricots, diced
125 ml (½ cup) Bocconcini pearls 
250 ml (1 cup) cooked extra lean ground meat
6 mint leaves, chopped
15 ml (1 tbsp) olive oil (or avocado oil)
Lemon juice of a whole lemon
Salt and pepper, as desired (you can replace salt with tamari sauce or Bragg's)
Preparation
Using a spiralizer, make spirals with both zucchini and carrots and combine in a bowl.
Add the apricots, the bocconcini pearls, the meat and the mint and mix.
In a small bowl, combine the oil, lemon juice, salt and pepper and pour over the salad before mixing well.
Taste and rectify the seasoning if necessary before serving.