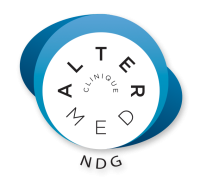 INTERDISCIPLINARY HEALTH CARE CLINICS IN THE HEART OF MONTREAL
Situated on the corner of St-Joseph and St-Denis streets for 15 years, the Altermed Plateau Clinic is a welcoming space offering quality services. It brings together skilled therapists who practice in interdisciplinary ways and promote alternative and complementary approaches.
The mission of Altermed Clinic is to guide you in managing your health and well-being. We offer recognized approaches that support your personal development.
Located on the dynamic Monkland avenue, our second clinic was established in 2014 to better respond to the needs of alternative health in the Notre-Dame-de-Grâce neighbourhood and its surroundings.
Altermed Clinic aims to provide a stimulating and warm environment while offering a range of recognized therapeutic approaches promoting your well-being.
Services offered
A multidisciplinary team of more than thirty qualified and attentive therapists is at your disposal every day of the week, 7/7 days between 7 am and 9 pm.
Quick and efficient online appointment scheduling!
Osteopathy
Massage therapy
Acupuncture
Physiotherapy
Naturopathy
Nutrition
Altermed Plateau Clinic
400 St. Joseph Blvd East, Montreal, H2J 1J5
To schedule an appointment:
cliniquealtermed.com
514-287-3289
Altermed NDG Clinic
5757 Monkland Ave, Montreal, H4A 1E9
To schedule an appointment:
cliniquealtermed.com
514-287-3289