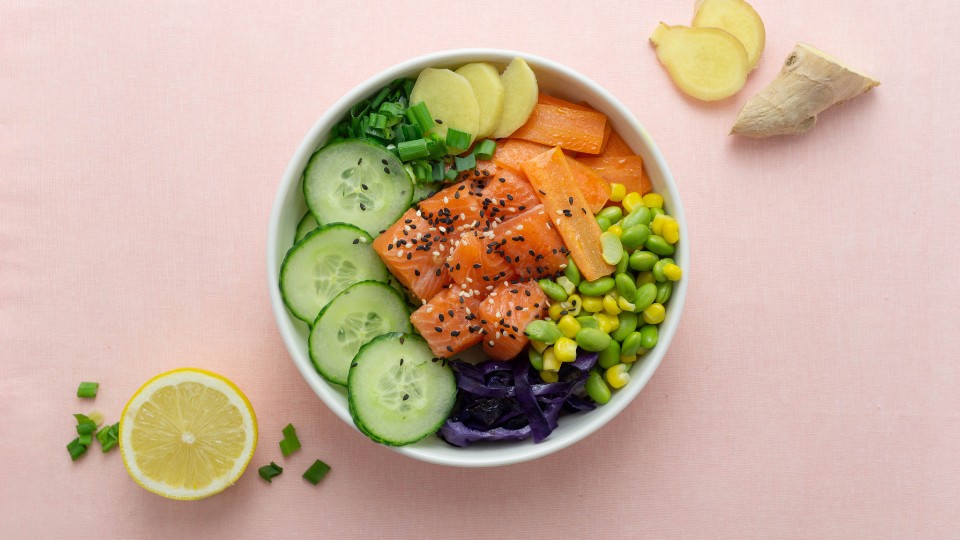 We all know that packing our own lunches is not only economical but also much healthier than what we can consume at restaurants or cafeterias. However, this action that we repeat approximately 365 times a year can become redundant, especially if we prefer quick and easy options. We quickly get tired of ham and cheese sandwiches. To revive your inspiration, here are 7 lunch ideas that you can make mostly with pantry essentials, without breaking the bank and in no time!
Add 1 tablespoon of powdered chicken broth, a few pieces of vegetables of your choice (e.g., broccoli, cauliflower, beans, grated carrots, or others), leftover meat from the previous day cut into small pieces, and ½ cup of ramen-style egg noodles. When it's time to eat, add 2 cups of boiling water, and you're done!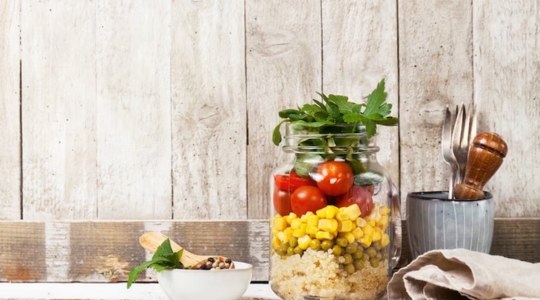 Mix together 2 hard-boiled eggs (or 1 can of tuna), 1 teaspoon of mayonnaise, 1 teaspoon of plain yogurt, and a little bit of pepper. Spread the mixture on a pita bread or tortilla with a lettuce leaf and some strips of bell peppers! *Flavour tip: Add 1 teaspoon of relish or a little bit of Sriracha hot sauce!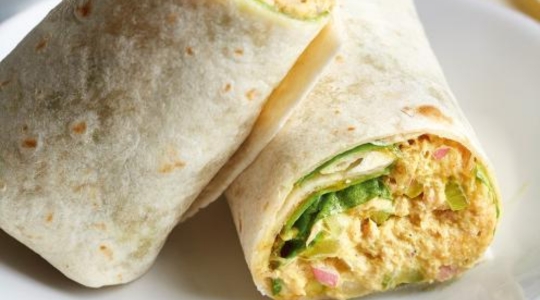 This simple salad with added grains and proteins is also a great clean-out-the-fridge option! Start with a base of brown rice or quinoa, add ½ cup of grated red cabbage, ½ cup of corn, 1 grated carrot, a choice of protein (tofu, tempeh, meat, or seafood), and 1 tablespoon of your favorite dressing.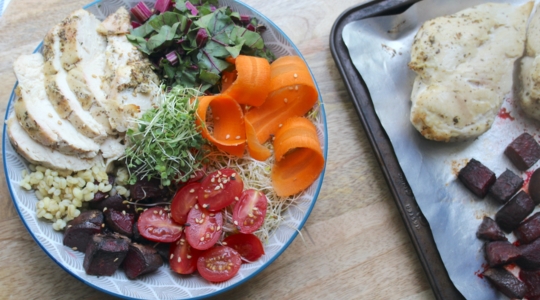 After cooking your pasta, add a variety of vegetables of your choice (bell peppers, broccoli, cauliflower, carrots, cucumber, etc.), a can of canned tuna, some green onions to taste, 1 teaspoon of olive oil, 1 teaspoon of lemon juice, and some pepper.
Mix a can of mixed legumes with diced cucumbers, 1 diced green apple, 1 chopped green onion, and 1 tablespoon of dressing. *Flavor tip: Add a few dried cranberries or raisins for an extra punch!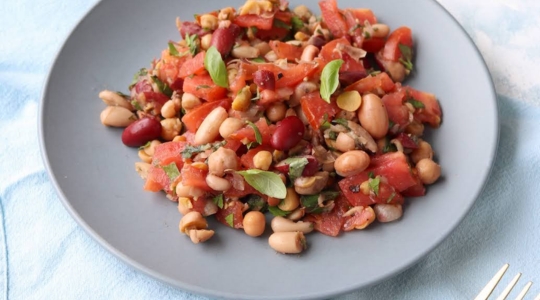 Did you know that you just need to add 1 cup of hot water to 1 cup of couscous and let it cook for 5 minutes? Afterwards, you can add ½ cup of chickpeas, ¼ cup of raisins, 1 grated carrot, and a few cubes of zucchini. *Flavor tip: While cooking the couscous, add ½ teaspoon of cumin and ½ teaspoon of curry for a Moroccan-style flavor.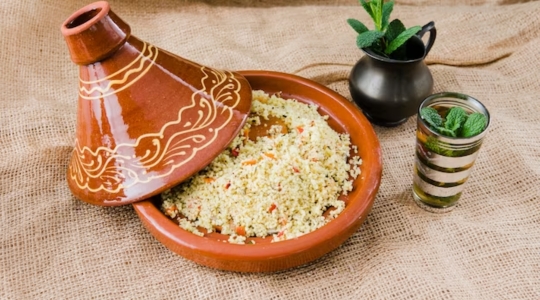 This meal originated in Hawaii and doesn't require much preparation. Simply cook ¾ cup of rice and add 1 teaspoon of rice vinegar. Then add your favorite vegetables (e.g., corn, avocado, red cabbage), your favorite fruit (e.g., mangoes, pineapples, strawberries), and a choice of fish or seafood (e.g., salmon, tuna, shrimp). For the sauce, mix 1 teaspoon of mayonnaise with 1 teaspoon of plain yogurt, and add a little bit of Sriracha and ginger.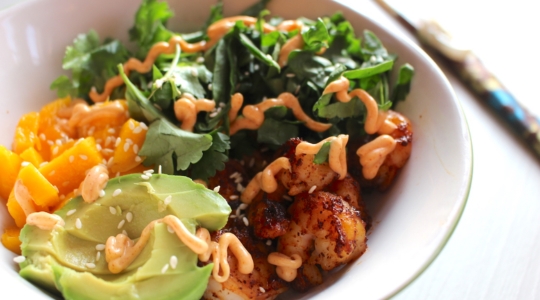 In conclusion, preparing your own lunches offers many advantages, both economically and health-wise. However, monotony can quickly set in when we always opt for the same options. Fortunately, with these 7 lunch ideas that are simple to prepare using mostly pantry staples, you can revive your culinary inspiration without breaking the bank and in no time. Let these suggestions guide you in diversifying your meals and adding variety to your daily routine. Be creative and adapt these ideas to your personal preferences, using the ingredients you have on hand. Remember that the goal is to prepare delicious, nutritious, and convenient meals that will nourish you while saving you time. Get ready to enjoy delicious and balanced lunches that will make others envious. Bon appétit!