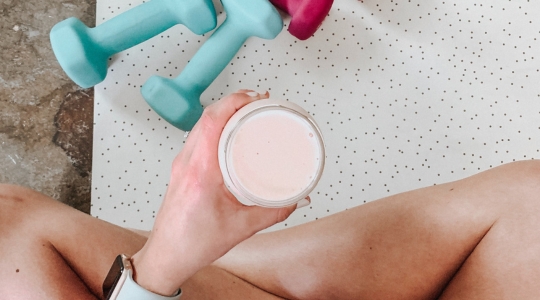 Did you know that eating extra protein alongside your workout routine will facilitate muscle growth and recovery? You'll be able to build more muscle, burn more fat, and experience shorter recovery periods when you fuel your body the right way.
While the research on "protein timing" is mixed, we do know that it's crucial to fuel your body after a workout to make sure that you're giving your body what it needs in order to rebuild and heal.
Working out depletes your glycogen stores, so you'll get burned out if you don't have healthy post-workout meals.
We're here with a few of our favorite foods to eat after a workout. Read on to learn more.
When you're eating after a workout, but it's not yet time for a heavy meal, try something light (and vegetarian-friendly). Our protein chia pudding is the perfect post-workout food.
You only need a few common and affordable ingredients, and it could potentially be vegan if you sub out the Greek yogurt for a vegan alternative. It has a whopping 22 grams of protein, making it the perfect light meal after a tough workout.
It's cold and refreshing, so it'll taste great after a gym session. The best part is that you can make it the night before so you can just grab it from the fridge when you're hungry.
Do you love working out in the morning? Re-fuel with crustless quiche for breakfast or brunch. This meal tastes like it comes from a restaurant, but with just over 250 calories and 20 grams of protein, it's healthier than anything that you could order for takeout.
Egg whites make this dish low-cal and protein-rich while broccoli, onion, bell pepper, and nutritional yeast amp up the flavor. Bake it the night before and heat it up when you're ready to eat.
There's nothing better than a refreshing salad after a sweaty workout. Our pesto and tuna orzo salad will help you recover with 25 grams of protein, healthy fats, and plenty of veggies.
Fish is one of the healthiest protein sources that you can eat. It's lean, full of omega-3 fatty acids, and delicious. Fatty acids are essential for brain health.
You can have this tasty lunch or dinner on the table in under a half-hour.
If you want a 20-minute meal with almost 30 grams of protein, look no further. The one-pan Asian salmon is here to save the day.
Light and healthy salmon is paired with bok choy, bell peppers, and leeks for a nutritional powerhouse of a lunch or dinner. The sweet and salty combination of flavors will remind you that healthy eating can also be good eating.
Try These Post-Workout Meals This Week
These post-workout meals will make your recovery a breeze. They're low-calorie, packed with protein, and delicious. They come together in minutes, so why not give them a try?
Are you looking for a registered dietitian to help you reach your health and fitness goals? Look no further. Contact us to set up a consultation today.