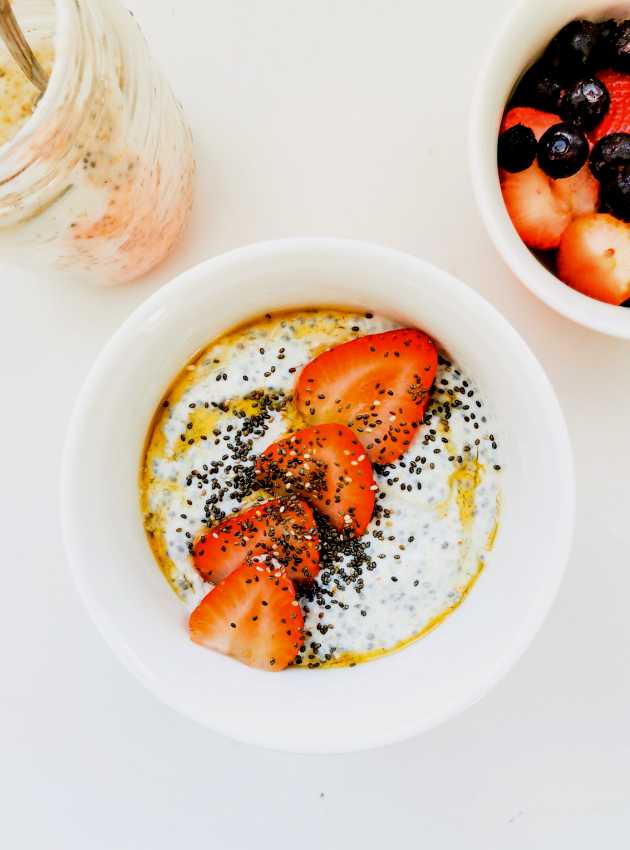 This recipe offers an excellent breakfast option with its high fiber and protein content, providing satisfying support. It also serves as a great post-workout snack, perfect for preparing in advance.
Ingredients
125 ml (½ cup) plain Greek yogurt
125 ml (½ cup) milk or soy beverage
30 ml (2 tbsp) chia seeds
15 ml (1 tbsp) wheat germ or wheat bran
5 ml (1 tsp) maple syrup or honey
2.5 ml (½ tsp) vanilla extract
125 ml (½ cup) fresh or frozen berries
Note: Frozen berries can also be used for this recipe. The berries can be substituted with other fruits of choice, such as sliced peaches, sliced banana, or diced apple.
Preparation
1. Mix all the ingredients except for the berries.
2. Let it sit overnight or at least two hours in the refrigerator.
3. Add a little milk to the pudding if it is too thick for your liking. Serve with the berries as a topping.
Notes
Can be kept 5 days in the refrigerator.