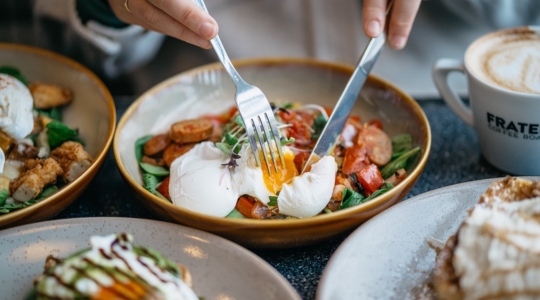 What could be better than a festive brunch to celebrate a special occasion or simply to share a nice moment with your loved ones? Here are 5 ideas for a tasty and memorable brunch!
1. Make Sure the Atmosphere Is There
The atmosphere of the brunch is an important element to ensure that your guests will keep a positive memory of the moment you will share. Putting the electronics aside, having great conversations about topics that make everyone comfortable, and taking time to enjoy the meal can help keep the mood great throughout your brunch.
Remember that sharing meals with your loved ones has many benefits and contributes to a healthy lifestyle according to Canada's Food Guide
2. Try Recipes That Are Out of the Ordinary
Add a little fun to your brunch by offering a new recipe to your guests. When we share a meal with others, we are more tempted to try new dishes and/or foods. This is the perfect time to try this super easy tofu "Ricotta" recipe that is sure to impress your guests.
3. Cook Your Own Food
Although cooking yourself requires a little more planning and time, it can make a big difference in the taste of your food, the nutritional value of your food and the atmosphere of your brunch. Guests are always happy to know that the meal was cooked especially for them, with love. Instead of buying them ready-made, bake these whole wheat bagels and peanut butter granola (low FODMAPS).
4. Make Food That Appeals to Both Sweet and Savoury Teeth
Everyone has different tastes and cravings. To ensure that everyone gets maximum satisfaction from your brunch, consider cooking 2 dishes with different flavours. For example, a crustless quiche for those who prefer salty and buckwheat and blueberry pancakes, low in FODMAP for those who prefer sweet.
5. Incorporate Colourful Foods to Please Your Guests' Eyes and Taste Buds
A beautiful presentation is always more pleasing and appealing. Fruits and vegetables are a great way to add color to your table and add freshness to your dishes. This no-cook raspberry and chia jam recipe is sure to add color to your meal, as well as being easy to cook and tasty.
Eating with company is part of the recommendations for healthy eating. For more advice, contact us for an initial meeting with a nutritionist-dietitian!