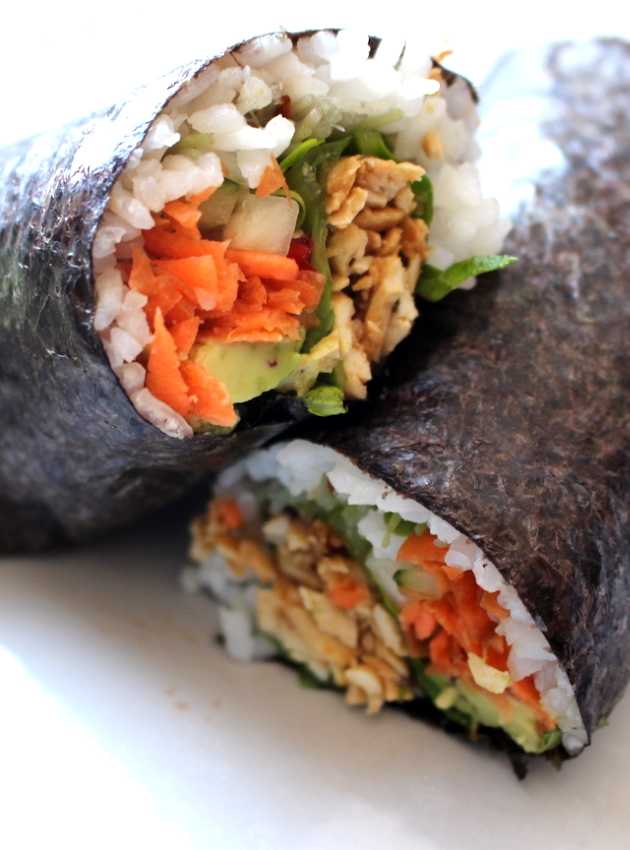 Indulge in a symphony of colors and flavors with our delightful Nori Rolls featuring tofu and vibrant vegetables. A gourmet fusion inspired by sushi that will delight your taste buds!
Ingredients
6 Nori sheets
125 ml (1/2 cup) Calrose rice (sushi rice)
227 g (½ block) firm tofu, grated
15 ml (1 tbsp) oil
15 ml (1 tbsp) hoisin sauce
1 avocado, sliced
1 large carrot, grated
1 small cucumber, julienned
Approximately 4 strawberries, sliced
A handful of sprouts
6 lettuce leaves
Mint leaf (optional)
Preparation
In a pot, cook the rice according to the packaging instructions. In a pan, heat the oil over medium-high heat, then add the grated tofu and hoisin sauce. Mix and cook for about 5 minutes, stirring occasionally.
Take a sheet of Nori and spread about 1 heaping tablespoon of rice on the bottom of the sheet (about one-fourth of the sheet). Add 1/6 of the cooked grated tofu, avocados, carrots, cucumbers, strawberries, sprouts, and mint leaves, then roll tightly.
Dampen the corners of the sheet with a few drops of water to ensure it sticks, then roll tightly. Repeat the same steps for the other 5 sheets.
Various sauces can accompany these rolls: Spicy Mayo, Peanut Sauce, or if you're in a hurry, a little sushi soy sauce or Wafu sauce!