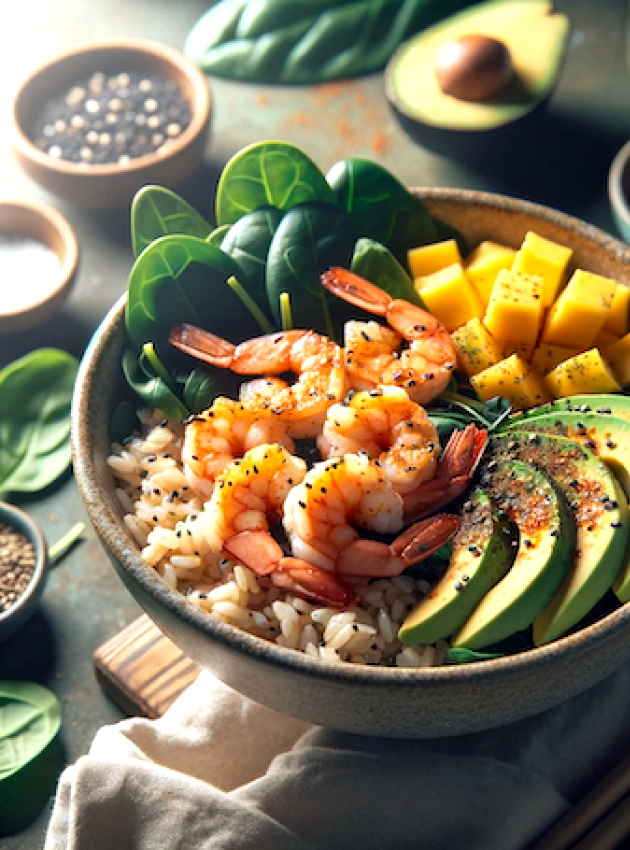 Discover the benefits of our Spicy Shrimp Poke Bowl recipe. A delightful fusion of flavors and textures, and rich in proteins. Savor this enticing and nourishing dish now.
Ingredients
250 ml (1 cup) brown basmati rice
500 ml (2 cups) water or 375 ml (1 ¾ cup) water
5 ml (1 tbsp) of coconut oil
675 g (1½ lb) raw peeled and deveined shrimp
5 ml (1 tsp) minced garlic
5 ml (1 tsp) chilli powder
Salt and pepper to taste
1 mango, cut into cubes
2 small avocados cut into cubes
250 ml (1 cup) chopped spinach
Sesame seeds to taste (about 5 ml -1 tsp - per bowl)
Fresh coriander (optional)
Spicy mayonnaise
45 ml (3 tbsp) light mayonnaise
30 ml (2 tbsp) plain Greek yogurt
2.5 ml (½ tsp) smoked paprika
15 ml (1 tbsp) lemon juice
5 ml (1 tsp) sriracha sauce (or more if you like it spicy!)
Note: You are not too spicy mayo? You can replace it with our peanut sauce.
Preparation
In a saucepan, boil the water and cook the rice for about 20-25 minutes, then remove it from the heat.
In a frying pan, fry the shrimp in the coconut oil with the garlic.
Add the chilli powder, salt and pepper and cook for about 7 minutes or until they are pink. Then, remove from the heat.
Mix all spicy mayonnaise ingredients with a fork until it becomes smooth and even.
Separate the rice into bowls, then add the garnish, sesame seeds, coriander and spicy mayonnaise.
Other garnishing ideas: grated carrots, wakame, grated red cabbage, sliced ​​radish, cubed cucumbers, pineapple cubes, etc.