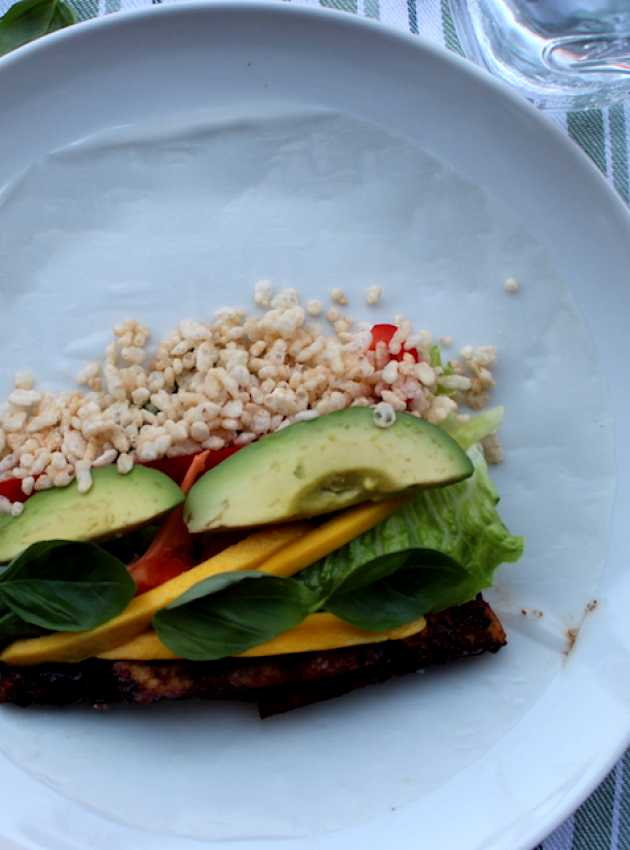 Savor the freshness of our delectable Tofu Spring Rolls, a delightful blend of healthy ingredients and vibrant flavors. Packed with nutritious tofu and crisp vegetables, these rolls make for a light and flavorful treat. Perfect for a refreshing appetizer or a wholesome snack!
Ingredients
½ block (227 g) firm or semi-firm tofu, cut into strips 
5 to 10 ml (1 to 2 tsp) sesame oil 
15 ml (1 tbsp) hoisin sauce 
15 ml (1 tbsp) soy sauce 
15 ml (1 tbsp) rice vinegar 
1 mango, cut into julienne 
1 avocado, cut into julienne 
1 pepper (any color), cut into julienne 
¼ cucumber, seeded and cut into strips 
6 salad leaves Sesame seeds 
125 ml (1/2 cup) Rice Krispies 
Basil leaves (optional) 
6 rice paper wrappers 
Peanut Sauce 
65 ml (¼ cup) peanut butter 
65 ml (¼ cup) water 
½ of a lemon juice 
15 ml (1 tbsp) soy sauce or tamari 
1 clove of garlic, finely chopped 
1 ml (¼ tsp) Cayenne pepper
Note: Use your imagination by making spring rolls of your own taste using any kind of fruits and vegetables! No need to use tofu for this recipe! You can choose your favorite protein (chicken, shrimp, tempeh, salmon).
Preparation
In a large non-stick skillet over medium heat, heat the sesame oil. Add the tofu strips, the hoisin sauce, the soy sauce and the rice vinegar. Cook the tofu over medium heat while turning it until it is lightly golden brown. Remove the tofu from the skillet and set aside on a large plate lined with paper towels. 
In a bowl, prepare the sauce by melting the peanut butter mixed with water in the microwave for about 30 seconds. 
Add the lemon juice, soy sauce (or tamari), garlic and cayenne pepper and mix well. Set aside. 
Moisten one rice paper wrapper at a time by dipping it in a deep dish filled with warm water. Gently pat until it gets tender. 
Place a salad leaf on the end of the rice paper wrapper, then add some tofu, mangoes, avocados, cucumbers, peppers, sesame seeds, Rice Krispies, and basil leaves. 
Be sure to leave some space on each side of the rice paper wrapper. Roll firmly, fold the edges and continue to roll tight. 
Enjoy the spring rolls with the peanut sauce.