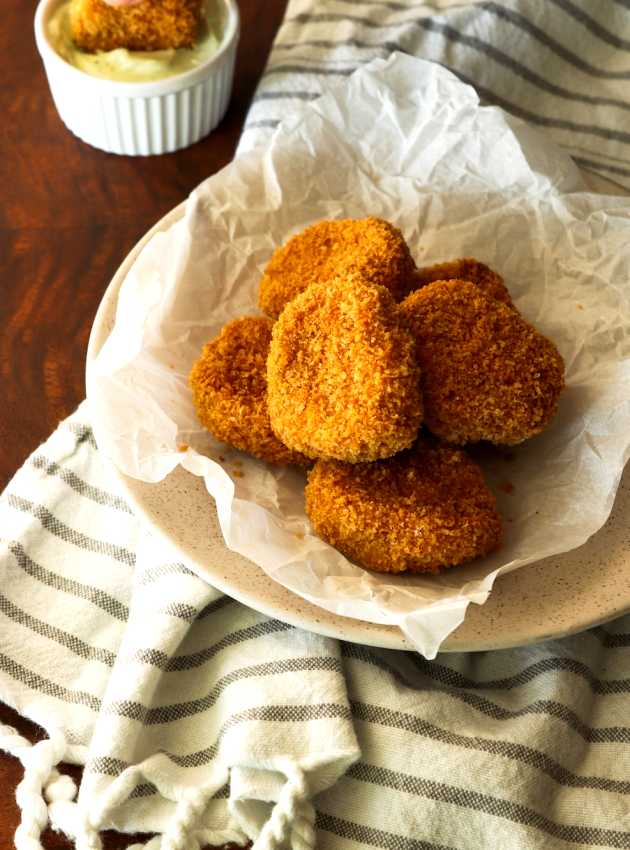 These half-veggie chicken nuggets are a great way to introduce yourself to plant-based proteins without sacrificing taste! Plus, they contain three times less salt than store-bought nuggets. Perfect for mealprep or to enjoy with the whole family!
Ingredients
Breadcrumb Coating
250 ml (1 cup) Panko breadcrumbs
Olive oil spray
30 ml (2 tbsp) nutritional yeast (optional)
Dry Mixture
125 ml (½ cup) cornstarch
10 ml (2 tsp) paprika
10 ml (2 tsp) garlic powder
10 ml (2 tsp) onion powder
Pepper, to taste
Chicken
1 lb (454 g) extra-firm tofu
1 lb (454 g) ground chicken
2 green onions, finely chopped
60 ml (¼ cup) low-sodium chicken bouillon powder (see Note)
A pinch of salt
For assembly
Note: Low-sodium chicken bouillon powder contains up to 700 times less sodium than traditional chicken bouillon powder. Note that "low sodium" and "reduced sodium" designations are not equivalent. "Low sodium" refers to a product containing a maximum of 140 mg of sodium per serving, while "reduced sodium" means a product whose usual sodium content has been reduced by at least 25%.
Low FODMAP Substitutions:
Use only the green part of the green onion.
Omit garlic and onion powder, then add 5 ml (1 tsp) of finely chopped garlic chives (fresh or store-bought) to the chicken and tofu mixture.
Use gluten-free breadcrumbs.
Preparation
Preheat the oven to 425°F (220°C). Line a baking sheet with parchment paper.
Spread the breadcrumbs on the baking sheet, then evenly spray with oil to cover all the breadcrumbs. Bake in the oven for 5 minutes, stirring frequently to brown them evenly.
Reserve the breadcrumbs in a shallow dish, then incorporate the nutritional yeast if desired.
Drain and pat the tofu dry with a clean towel. In a large bowl, crumble the tofu with your fingers. Mix in the ground chicken, green onion, low-sodium chicken bouillon powder, and salt.
With lightly oiled hands, shape the mixture into 15 ml (1 tbsp) nuggets.
Prepare two more shallow dishes. In the first one, mix the cornstarch, paprika, garlic powder, and onion powder. Season generously with pepper. In the second one, beat the eggs.
Coat the nuggets in the cornstarch mixture, dip them in the beaten eggs, and then coat them with breadcrumbs. Place them on the baking sheet.
Spray the nuggets with oil, then bake in the oven for 15 minutes, flipping them halfway through the cooking time. Sprinkle salt on the freshly cooked nuggets to maximize their crispiness.
Try them with one of our Greek yogurt dips, our low FODMAP BBQ sauce, or our spicy roasted red pepper dip.
Notes
Can be kept in the refrigerator for up to 4 days or in the freezer for 2 months. It's preferable to reheat the nuggets in the oven or an air fryer.