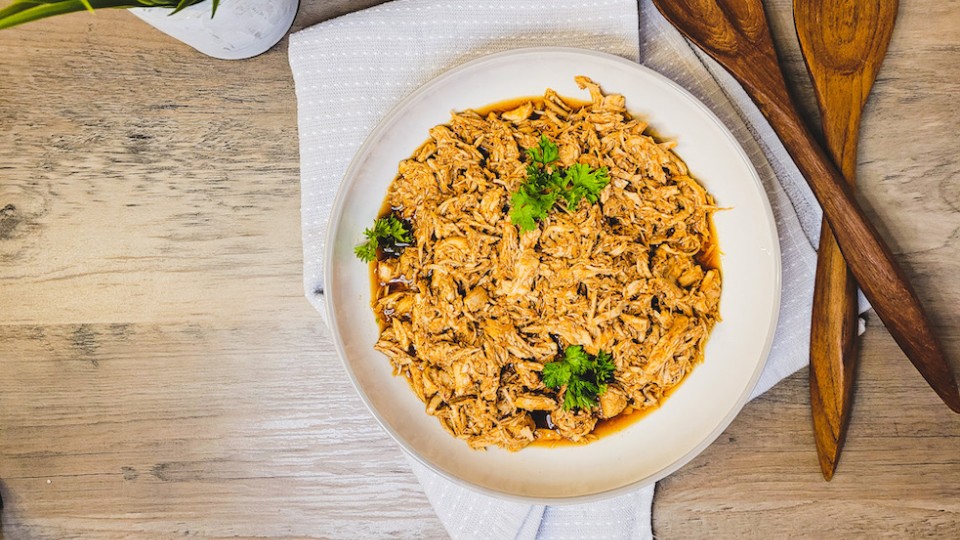 Benefits of Cooking Pulled Pork
It freezes well, so it's a great recipe to cook ahead of time. 
The meat is tender, juicy and tasty.
Because of its tenderness, it is often a winner with children or people who do not like the texture of meat.
It is versatile and can be used to prepare quick meals.
It can be prepared in the slow cooker all day long so that you have a meal ready when you get home from work (and it smells great when you get home too).
Basic Shredded Proteins to Cook
Classic Pulled Pork : This pork tenderloin-based recipe is 50% less fatty than the classic pork shoulder version.
Pulled Chicken  : Chicken is just as easy to shred as pork. Check out this easy slow cooker option to try it out.
Pulled Beef : This all-purpose version works well in a variety of recipes.
Vegetarian Options
You can also shred plant-based proteins. This is a great option for those who are just starting to get to grips with these proteins or for those who don't like the texture of tofu.
Top 5 Ways to Use Your Shredded Meat
Meal Bowls
Add your shredded meat to a salad or rice bowl to make a meal.  It works well in this Mexican bowl recipe for example.
Shepherd's Pie
You can replace the ground meat in your usual recipe with your choice of shredded meat or make this gourmet shepherd's pie recipe.
Tacos
Serve your shredded meat in your whole wheat tortillas with vegetables, grated cheese and your choice of salsa as a garnish. This mango salsa is perfect to accompany the tacos.
Barbecue Pizza 
Arrange meat on whole wheat pitas with barbecue sauce, bell pepper strips, onions and cheese or make homemade pocket pizzas.
Asian Stir-Fry
Stir-fry shredded protein with vegetables and an Asian sauce, then serve over rice or rice noodles or make this stir-fry with udon noodles.
In short, for all these reasons and its versatility, shredded meat is a great option to introduce in your meal prep. Check out this week's flyers and cook the protein on sale of your choice with all these ideas!