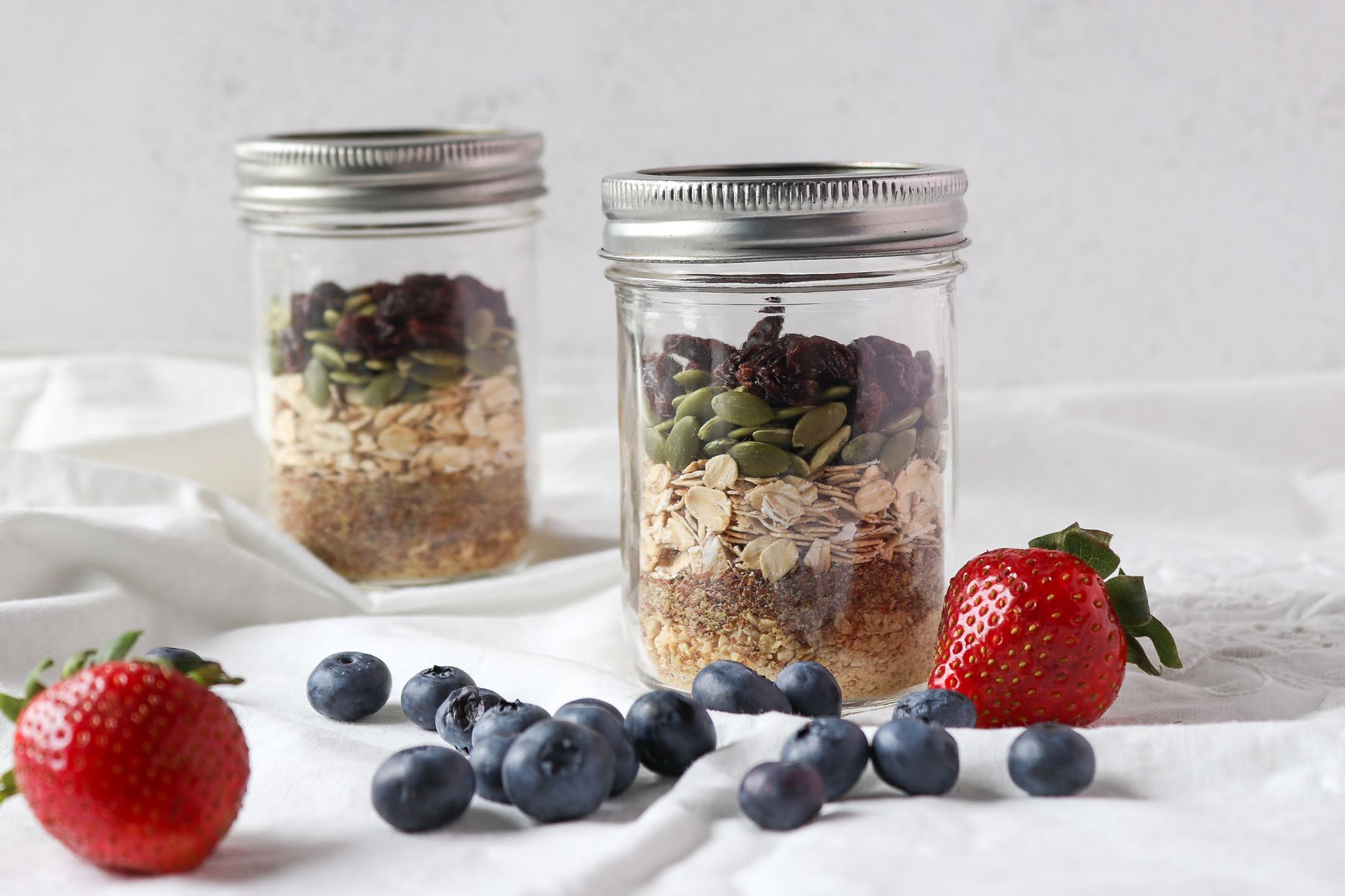 Ah the famous weekday lunches! If we were to count the number of lunch boxes we can prepare in a year, we would realize that it's a lot! In order to simplify the life of parents, workers or students, here are some recipes that can be prepared in advance and assembled directly in a Mason jar. 
Salads
Here's a delicious jar salad recipe, a delightful mix of pomegranate, legumes, quinoa, and a Dijon-curry dressing. Prepare it in advance and store it in the refrigerator for 2 days, so you can enjoy a healthy and convenient meal wherever you are.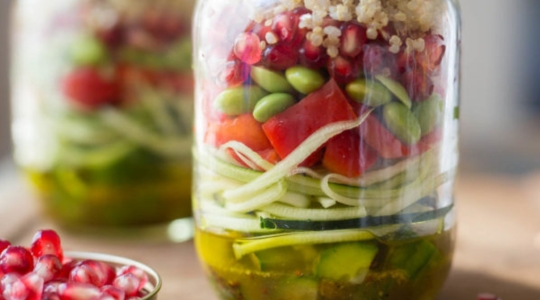 Indulge in the irresistible jarred Niçoise salad, a tempting combination of farfalle pasta, hard-boiled eggs, crunchy green beans, olives, cherry tomatoes, and other ingredients that will awaken your senses and transport you to the Mediterranean.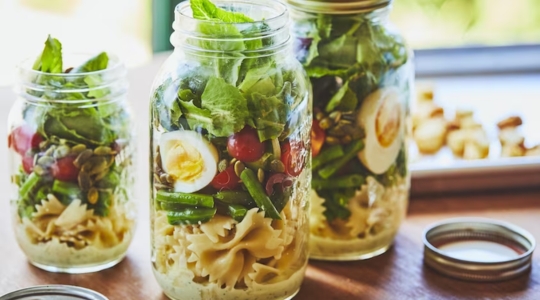 Discover the delicious ratatouille-style jar salad, where grilled eggplant and zucchini blend harmoniously with couscous and feta cheese to create a complete and flavorful meal. In just 30 minutes, including cooking time, you can prepare four servings of this convenient recipe, perfect for saving preparation time during the week or enjoying a delicious meal with your family.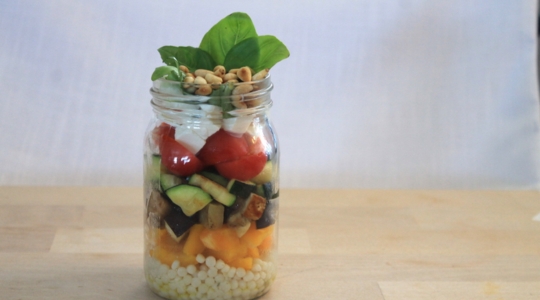 Discover the flavorful jar nacho salad accompanied by a creamy cilantro dressing. This recipe is not only fun to eat but also simple to prepare. It stands out from other salads thanks to the nachos that add a crunchy and delicious texture to your meal.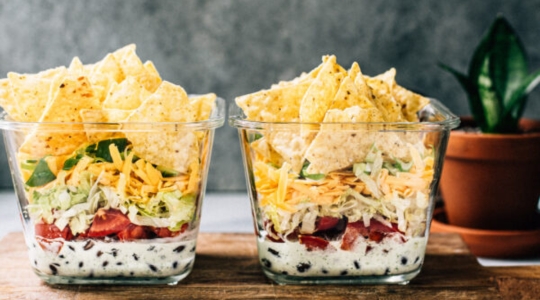 The soups
Indulge in the flavorful Asian jar soup, a simple and convenient meal. The ingredients are strategically layered in the jar, ready to be transformed into a delicious soup by simply adding boiling water and waiting a few minutes. A convenient and tasty solution for a quick and satisfying meal.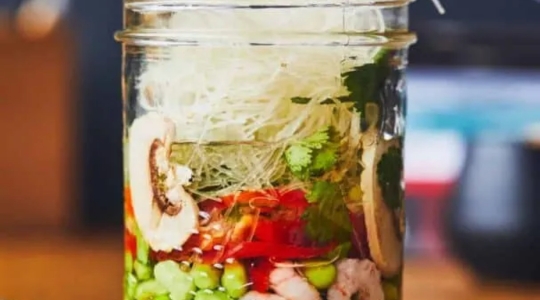 Indulge in a homemade soup-on-the-go, a practical solution for deliciously using up leftover pasta. Simply add diced vegetables, cooked chicken, and boiling water when serving. The flavor is enhanced by the chicken broth concentrate, resulting in a comforting and flavorful meal in no time.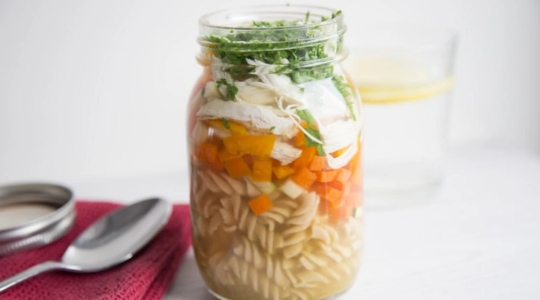 Other options
Discover the delicious Mason jar shrimp sushi-inspired recipe, which can be considered a salad but with the same ingredients found in sushi. Enjoy this sushi-inspired mix for your lunch break, a tasty and convenient option!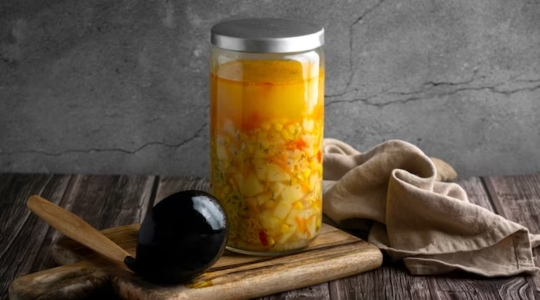 Discover the recipe for a sweet and savory portable omelette, a versatile option perfect for breakfast or even lunch. Eggs are cracked into a to-go container, then diced apples, cheese, chorizo, and maple syrup are added. After a good mix, simply heat the container in the microwave for a quick and tasty meal. Complete the meal with crackers and raw vegetables for a perfect combination.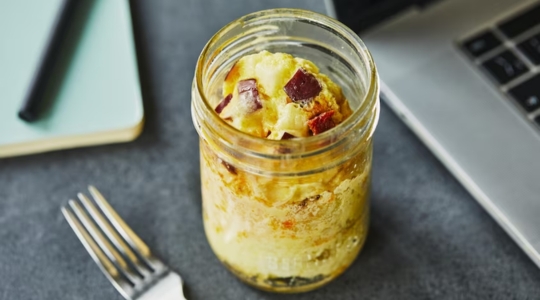 Indulge in the delicious lettuce wraps with veggie pâté, a light and balanced option that replaces bread with crispy lettuce leaves. Gather fresh vegetables and veggie pâté in a tasty wrap, and don't forget to leave room for your favorite sauce in a separate container. A convenient and flavorful way to enjoy a healthy and delicious meal.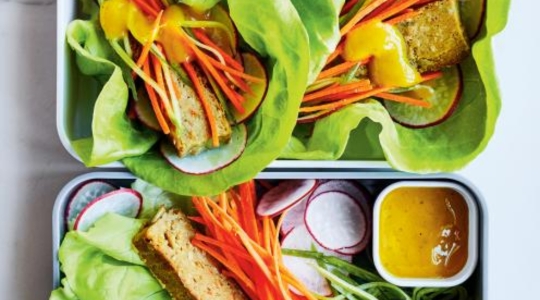 Indulge in our delicious assemble-your-own oatmeal, a versatile recipe perfect for a nutritious and tasty meal. Ideal when you're low on groceries and in need of vegetables, this fiber and protein-rich oatmeal can be a satisfying option for a comforting breakfast.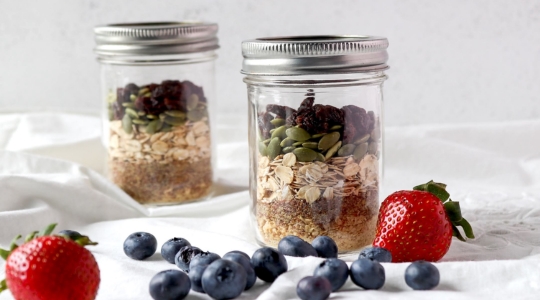 Looking for tips on how to better plan your weekly meals? It is possible to meet with a dietitian who will be able to guide you and give you advice according to your needs.