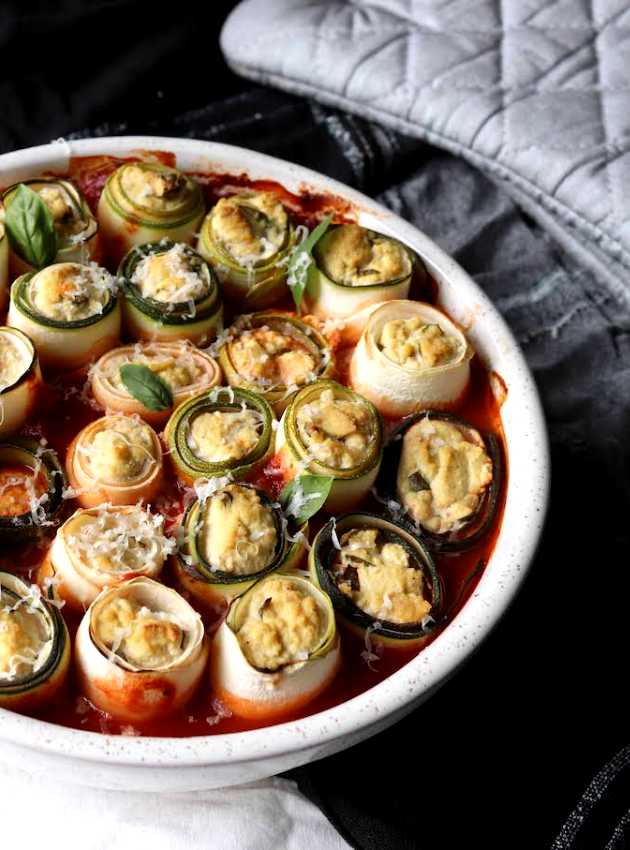 Discover our delicious recipe for Zucchini Cannelloni. Indulge in these flavorful zucchini rolls stuffed with a delicious filling, providing a light and healthy alternative to traditional cannelloni. Experience a burst of flavors without any guilt!
Ingredients
1 recipe of easy tofu "Ricotta" (or a 400g (14 oz) container of light ricotta cheese)
60 ml (1/4 cup) finely chopped fresh basil leaves
2 cloves garlic, finely chopped (approx. 10 ml or 2 tsp minced garlic in a jar)
2-3 medium green zucchini (or a very large zucchini from your garden!)
180 ml (3/4 cup) no-salt-added tomato sauce
Grated Parmesan or mozzarella cheese, to taste (optional)
Note: Fresh basil can be replaced by 15 ml (1 tbsp) of dried basil. 
For a low FODMAP version, use potted garlic flower and tomato coulis (passata).
Preparation
Prepare the tofu "ricotta".
Stir basil and garlic into ricotta. Set aside.
Preheat the oven to 350°F (180°C).
Using a vegetable peeler, peel zucchini lengthwise to create long ribbons. Twist zucchini to form ribbons on all sides without using the center (See Note)
In the bottom of a 20-cm (8-inch) round ovenproof dish, spread tomato sauce.
Place a ribbon of zucchini on the work surface. Using a measuring spoon, place 15 ml (1 tbsp) of ricotta cheese on the end of the zucchini ribbon. Roll into a small cylinder and place vertically in the dish.
Bake for 25 minutes, garnish with cheese if desired, then broil for an additional 5 to 10 minutes or until the cheese is well grilled.
Just before serving, garnish with basil leaves if desired. For a more substantial meal, serve with brown rice and/or vegetables.
Note: if you want a quick and easy version, you can arrange the zucchini ribbons, ricotta and tomato sauce in a lasagna shape in a 20 cm (8 in.) square pan.
Notes
Can be stored for 3 days in the refrigerator.