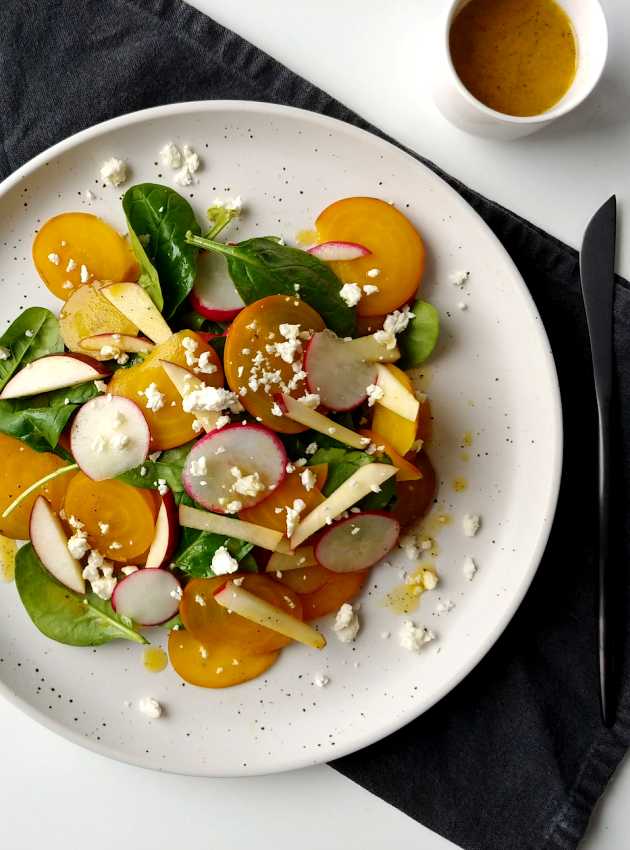 Discover our vibrant recipe for Winter Salad with Yellow Beets. This delightful salad combines the earthy sweetness of yellow beets with crisp vegetables, tangy citrus, and feta cheese, creating a refreshing and nutritious dish perfect for the colder months.
Ingredients
Salad
1 lb (450 g) yellow beets, uncooked and with skin on, thinly sliced (see tip)
80 ml (⅓ cup) of water
1 large Cortland apple, chopped in sticks (see tip)
3 radishes, thinly sliced (see tip)
500 ml (2 cups) packed baby spinach
125 ml (½ cup) crumbled feta cheese (optional)
Vinaigrette
The juice of 1 orange (or 60 ml / ¼ cup)
The juice of 1 lemon (or 60 ml / ¼ cup)
30 ml (2 tbsp) olive oil
Salt and pepper to taste
Garnish : Walnuts or orange supremes
Preparation
In a microwave-safe bowl, place the sliced beets and pour the water. Cover with a plate and heat for 8-10 minutes or until beets are tender. Drain and let cool.
In the meantime, slice the apple and radishes and prepare the vinaigrette. Use a mandolin to make nice thin and uniform slices while saving time.
In a large bowl, squeeze the orange and lemon, then pour in the olive oil. Season with pepper and salt, then mix the vinaigrette with a fork. (see tip)
Add the apple, radishes, spinach and beets to the bowl and mix. Garnish salad with crumbled feta cheese if desired. For a complete meal, accompany the salad with a source of protein such as leftover chicken or salmon and a starchy food such as quinoa, pearled barley or canned white beans.
Note:  You can also prepare the vinaigrette in a Mason jar for later use. Simply put all the ingredients in a Mason jar, close it and stir it vigorously. Double the recipe and you can keep half of it for another meal such as a green salad.
Notes
You can keep the salad for 3 days in the refrigerator, without dressing.