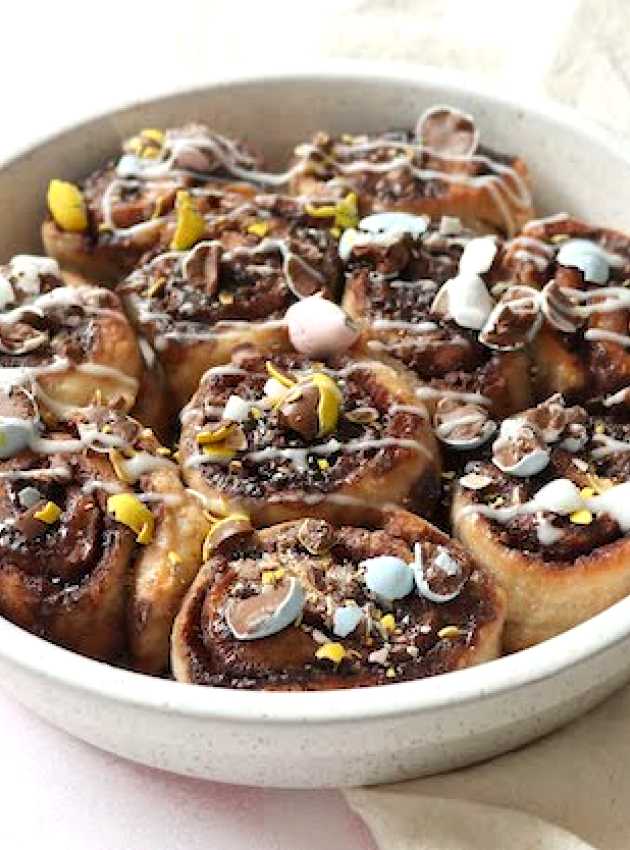 Discover our irresistible recipe for Mini Eggs Easter buns, delightful treats that are perfect for the festive season. These soft and fluffy buns are filled with mini eggs chocolates, offering a sweet and festive indulgence to be enjoyed with family and friends.
Ingredients
Dough
250 ml (1 cup) plain Greek yogurt
180 ml (¾ cup) whole wheat flour
125 ml (½ cup) all-purpose flour (plus more for dusting)
7 ml (1 ½ tsp) baking powder
0.5 ml (1/8 tsp) salt
Filling
45 ml (3 tbsp) margarine
15 ml (1 tbsp) brown sugar
15 ml (1 tbsp) cocoa powder
80 ml (⅓ cup) mini eggs (approximately 18 mini eggs)
Glaze
60 ml (¼ cup) powdered sugar
10 ml (2 tsp) water
60 ml (¼ cup) mini eggs (approximately 14 mini eggs)
Preparation
Preheat the oven to 180°C (350°F) and grease a 20 cm (8-inch) round cake pan.
In a large bowl, mix together the yogurt, flours, baking powder, and salt. Knead briefly with floured hands to form a smooth dough ball. If the dough is sticky, lightly dust with flour.
On a generously floured work surface, using a floured rolling pin, roll out the dough to form a rectangle about 1 cm (3/8 inch) thick.
In a small bowl, mix the margarine, brown sugar, and cocoa powder to form a smooth spread. Spread it evenly over the surface of the dough.
Place the mini eggs in a resealable bag. Using the rolling pin, crush the mini eggs into small pieces. Sprinkle them over the chocolate spread.
Roll up the dough gently. Cut the roll into 10 pieces, each about 2.5 cm (1 inch) wide. Place the buns, cut side up, in the prepared pan.
Bake in the oven for 28 minutes or until lightly golden. Be careful not to overcook them to keep them soft.
While baking, in a small bowl, mix the powdered sugar and water. Set aside. Lightly crush the remaining mini eggs. Set aside.
After removing from the oven, let the buns cool for a few minutes, then drizzle the glaze over the buns. Sprinkle with crushed mini eggs and serve.
Notes
It can be stored at room temperature for up to 3 days and is not suitable for freezing.