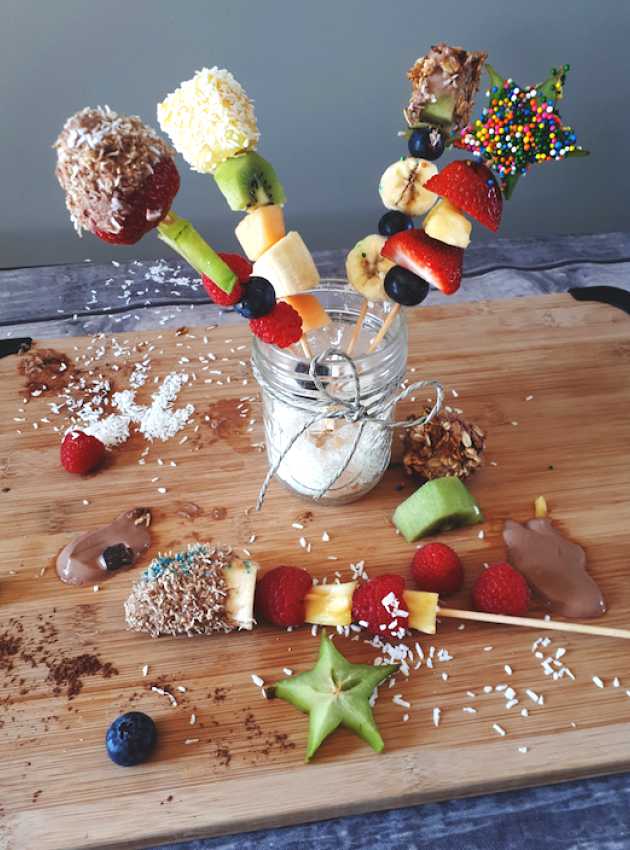 A simple and easy-to-make recipe for loads of fun with the kids. They'll love crafting their own snack while showcasing their creativity.
Ingredients
Chocolate Yogurt Sauce
15 ml (1 tbsp) cocoa powder
15 ml (1 tbsp) honey or maple syrup
85 ml (⅓ cup) plain Greek yogurt
Choice of Fruits
Pineapple, banana, blueberry, cantaloupe, starfruit, cherry, ground cherry, clementine, strawberry, raspberry, persimmon, kiwi, mango, melon, blackberry, papaya, peach, apple, pear, plum, grape, etc.
Choice of Toppings
Graham cracker crumbs, crushed bran or corn flakes, chia seeds, ground flax seeds, granola, mini chocolate chips, unsweetened shredded coconut, chopped pecans, colorful candies, puffed rice, etc. Also, approximately 6-inch (15 cm) long skewer sticks.
Preparation
In a bowl, mix the ingredients for the yogurt sauce and refrigerate. 
Peel the fruits you don't want to eat the skin of. 
Cut larger fruits into various-sized pieces. 
Thread the smaller fruits/pieces onto a skewer, finishing with a large piece.
Take the yogurt sauce out of the fridge and dip the final fruit in it, then sprinkle one or more toppings of choice on it. 
Repeat steps 4 and 5, alternating fruits, toppings, colors, flavors, and most importantly, having fun!
Note: Involve children in different ways according to their age and abilities. Younger ones can easily measure and mix the ingredients for the yogurt sauce. Older ones can cut fruits with plastic knives. Of course, the whole family can enjoy assembling the fruit pops :)