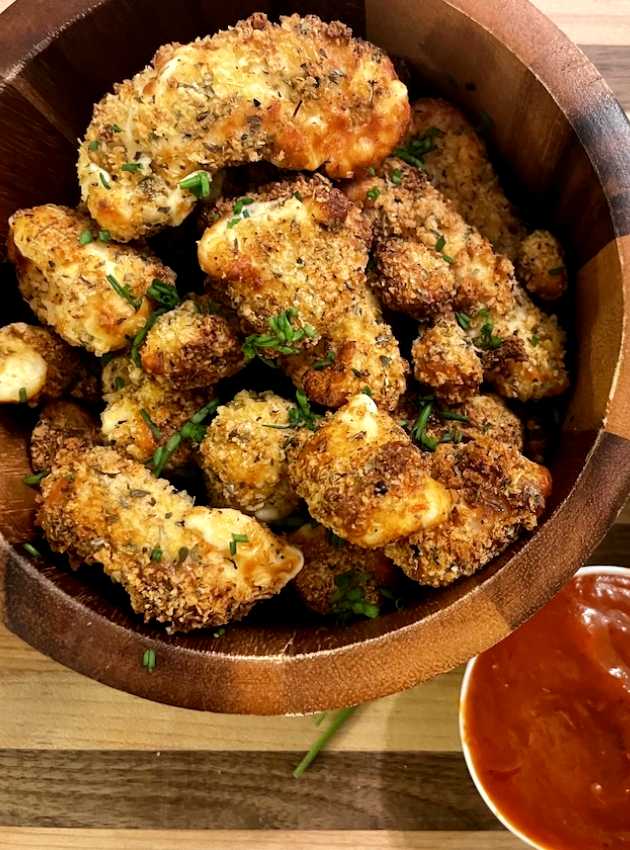 Discover a delicious way to prepare crispy cheese curds using an air fryer, a lighter alternative that reduces the amount of fat while maintaining the irresistible texture and flavor of traditional cheese curds.
Ingredients
125 ml (½ cup) flour
60 ml (¼ cup) ground flax seeds
2 eggs
500 ml (1 cup) Panko breadcrumbs
30 ml (2 tbsp) Italian seasoning
15 ml (1 tbsp) garlic powder
5 ml (1 tsp) paprika
Pepper and salt, to taste
340 g (1 large bag) cheese curds (about 2 cups)
15 ml (1 tbsp) chopped chives (optional)
Preparation
Prepare 3 bowls. In the first, combine the flour and ground flaxseed. In the second bowl, beat the eggs. In the third bowl, mix the panko with garlic powder, Italian seasoning, paprika, salt and pepper.
Coat cheese curds in flour, then dip in eggs. Coat each cheese curd with panko mixture.
Place cheese curds on air fryer rack without layering. If necessary, cook two separate batches, depending on the size of your appliance.
Fry on the air fry function at 400°F (200°C) for 8 minutes, turning the cheese curds halfway through the cooking time. Repeat this step if necessary.
If desired, garnish with chopped chives and serve with marinara sauce or honey mustard.
Notes
Can be stored up to 5 days in the refrigerator or up to 1 month in the freezer. Reheat for a few minutes in an air fryer to regain the crispy texture before eating.