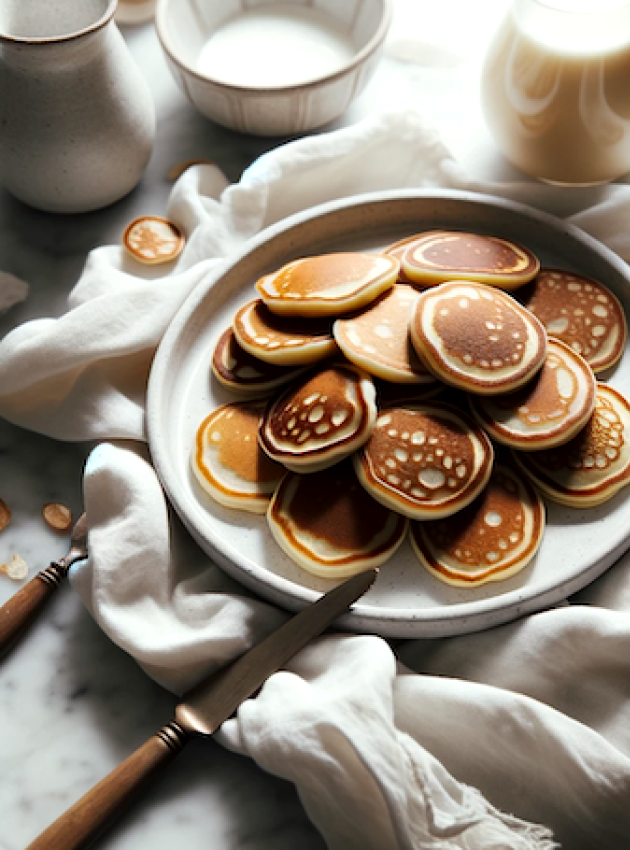 Discover our clever recipe for versatile baby cereal mini-pancakes. Suitable for both little ones and adults, these delicious, nutritious, and easy-to-make mini-pancakes are a must-try treat.
Ingredients
1 egg
375 ml to 500 ml (1.5 to 2 cups) cow's milk, breast milk or baby formula (depending on desired texture)
250 ml (1 cup) whole wheat flour
250 ml (1 cup) baby cereal (original or flavored, depending on your preference)
5 ml (1 tsp) baking powder
Canola oil* (for the pan)
Note: When cooking pancakes, it is preferable to use canola oil or vegetable oil since these oils are more resistant to heat. This way, there is less chance that your last mini-pancakes will turn black.
This recipe is versatile. It can be used for both sweet and savoury mini pancakes. You can also substitute some of the milk for applesauce, change the type of baby cereal used or spread the mini pancakes with different foods.
Preparation
Beat egg and add milk gradually.
Mix flour, baby cereal and baking powder
Gradually add dry mixture (flour, cereal, baking powder) to wet milk and egg mixture.
Let stand for 10 minutes.
Heat a medium or large skillet over medium heat. Drizzle with canola oil to prevent mini-crepes from sticking to the pan.
Use a "mini-layer" or large spoon to make mini pancakes about 1 inch in size. The best trick is to place the batter in a circle in the pan.
Turn the pancake when bubbles appear or when the edge of the pancake becomes darker.
Continue cooking for 1 to 2 minutes on the other side.
Note: we want the pancake to keep its soft texture and avoid being too crispy for your minis.
Here are some toppings ideas to inspire you
No sugar added fruit puree
Meat puree
Homemade pretzels
Crushed banana
Hummus
Avocado
Notes
Put the mini-pancakes in the freezer flat (separated) on a plate covered with parchment paper. When frozen, store in a dish or plastic bag. To defrost, place in microwave for 15 seconds!