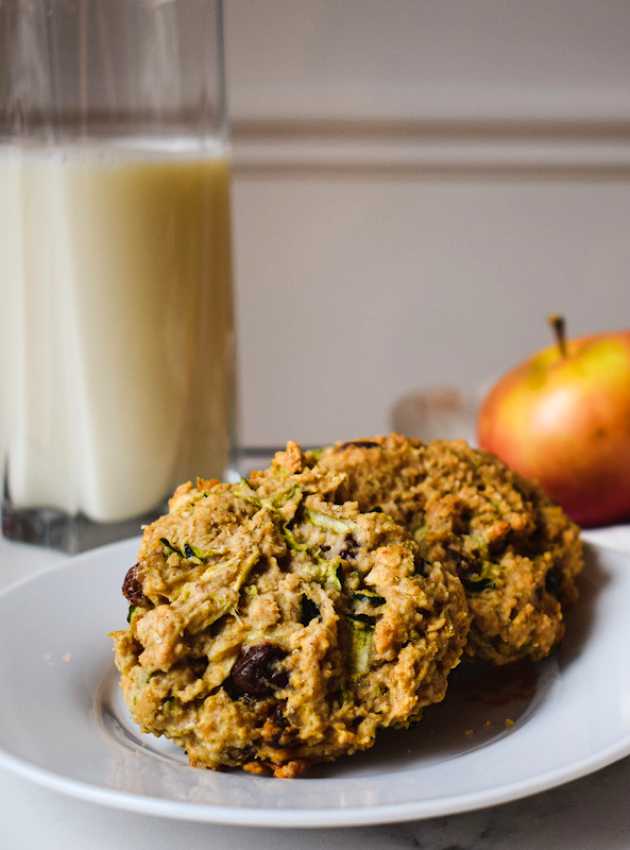 Discover our delicious recipe for Oat, Zucchini & Apple Cookies, a healthy and flavorful combination for nutritious and delightfully moist cookies.
Ingredients
500 ml (2 cups) quick-cooking rolled oats, reduced to flour
170 ml (⅔ cup) unbleached all-purpose flour or gluten-free flour
80 ml (⅓ cup) chocolate chips
2.5 ml (½ tsp) baking soda
2.5 ml (½ tsp) ground cinnamon
1 pinch of salt
1 egg
125 ml (½ cup) brown sugar, maple sugar or white sugar
5 ml (1 tsp) vanilla extract
60 ml (¼ cup) melted coconut oil or softened butter
1 small zucchini, grated (1½ cups)
1 medium apple, grated or cut into small cubes
Note: You can powder the oats in an electric blender or a ''Magic Bullet'' easily. Otherwise you can always buy oat flour, this is 1 ⅔ cup of flour. The cookie recipe is gluten free if you use certified gluten free flour or by using certified gluten free oats.
Preparation
Place the rack in the center of the oven. Preheat the oven to 350˚F (180°C). Line two baking sheets with silicone mats or parchment paper.
In a bowl, combine oat flour, flour, cinnamon, salt and chocolate chips.
In another bowl, whisk together egg, brown sugar and vanilla. Gradually add coconut oil or melted butter and mix until mixture is smooth. Add zucchini and grated apple and mix.
Add dry ingredients to wet ingredients and mix well.
Spoon 45 mL (3 tbsp.) of dough per cookie onto the baking sheet, leaving 5 cm (2 in.) of space between each cookie. Flatten cookies slightly.
Bake, one sheet at a time (unless you have a convection oven), for 20 minutes or until golden brown. For soft cookies, do not overbake. When removed from the oven, the center of the cookies should still be soft. Let cool on the baking sheet and transfer to a wire rack.
Conservation
Can be stored for 7 days in the refrigerator in an airtight container or 3 months in the freezer.