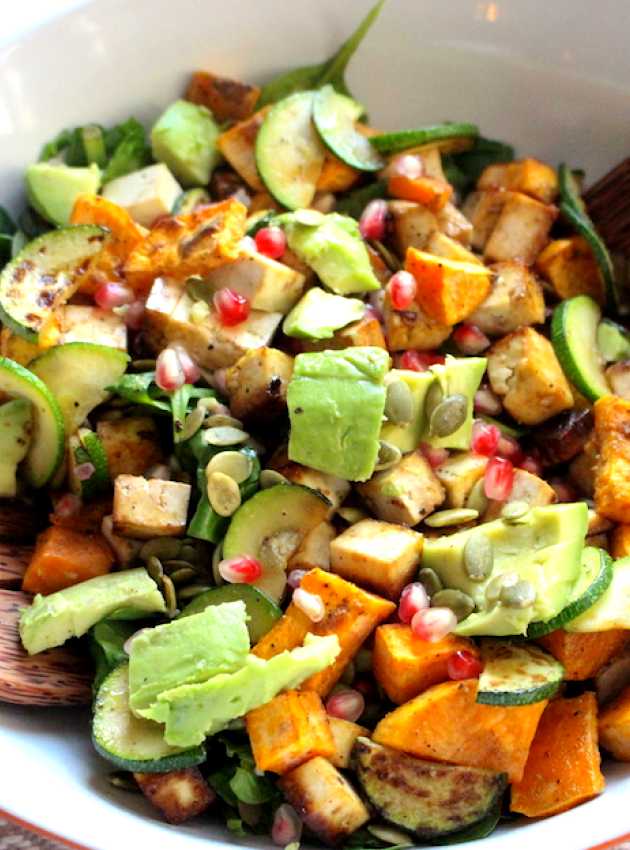 Explore our delightful recipe for Warm Tofu and Pomegranate Salad. This vibrant salad combines marinated tofu, juicy pomegranate seeds, and a medley of fresh greens, creating a flavorful and satisfying dish that's perfect for any season.
Ingredients
1 medium sweet potato, peeled and cubed
10 ml (2 tsp) ground ginger Salt and pepper to taste
15 ml (1 tbsp) avocado oil (or other oil)
1 block (454g) firm tofu, cubed 15 ml (1 tbsp) soy sauce
15 ml (1 tbsp) fresh ginger
1 zucchini, cut into half rounds
1 seeded pomegranate (click here for an easy and effective method)
1 avocado, cubed
4 cups spinach (about 140g)
65 ml (1/4 cup) pumpkin seeds
Vinaigrette
30 ml (2 tbsp) rice vinegar (or white wine)
30 ml (2 tbsp) toasted sesame oil
15 ml (1 tbsp) soy or tamari sauce
1 clove garlic, chopped
5 ml (1 tsp) ground ginger
Preparation
Preheat the oven to 425°F (230°C). Line a box plate with parchment paper.
On the baking sheet, mix the sweet potatoes with the oil, ginger, salt and pepper. Cook for about 30 minutes, stirring occasionally, then let cool.
Meanwhile, in a non-stick skillet, brown the tofu in oil with the soy sauce, fresh ginger and pepper for about 5 minutes, stirring occasionally.
Add the courgette and continue cooking for 5 minutes.
In a large bowl, place the sweet potatoes, tofu and zucchini mixture, avocados, spinach and pomegranate seeds and mix.