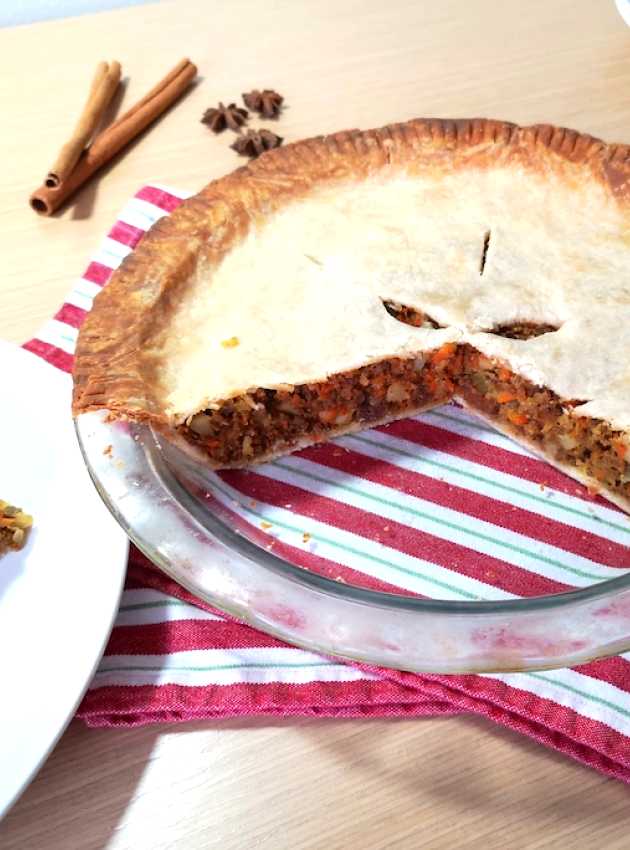 Discover our delicious recipe for Vegetarian Tourtière. Enjoy a meat-free twist on this classic Canadian dish, packed with savory vegetables and aromatic herbs. Easy to make and full of flavor, it's a must-try for both vegetarians and meat-lovers alike!
Ingredients
For the filling
5-10 ml (1 to 2 tsp) canola oil
1 onion
2 celery stalks
2 medium potatoes
250 ml (1 cup) chopped mushrooms
1 carrot
250 ml (1 cup) vegetable broth
1 Gusta Classic Traditional Spice seitan roast
Pinch of salt
15 ml (1 tbsp) tomato paste
5 ml (1 tsp) apple cider vinegar
For the pie crust
500 ml (2 cups) nutri flour (or other choice of wheat flour)
Pinch of salt
60 ml (1/4 cup) cold water
125 ml (1/2 cup) canola oil
15 ml (1 tbsp) honey
Preparation
Finely chop the onion using a food processor and cut the celery into small cubes. 
Sauté the onion and celery in a saucepan over low-medium heat with 5 to 10 ml of canola oil. 
Meanwhile, dice the potatoes, chop the mushrooms using a food processor, and grate the carrot using the food processor as well. 
Add the vegetables and vegetable broth to the saucepan. Stir and cover. Bring to a boil, then reduce the heat to medium and cook covered for 10 minutes, stirring occasionally. 
After 10 minutes, continue cooking uncovered until the vegetables are tender and the liquid has evaporated. 
Chop the seitan roast using the food processor (slightly larger than ground meat consistency). 
Add the seitan, tomato paste, apple cider vinegar, and a pinch of salt to the saucepan and mix well. Adjust the taste if needed. Set aside. 
For the pie crust, mix the flour and salt in a medium bowl, and the remaining ingredients in a small bowl. Make sure the water, oil, and honey mixture is well combined. 
Pour the liquid ingredients into the dry ingredients and stir until the flour is moistened, without overmixing. 
Press the mixture together to form two disks about 2cm thick. 
Roll out each dough disk between two sheets of parchment paper until larger than the pie plate. 
Transfer the crust to the pie plate. Add the filling and cover with the second crust. Seal the edges of the pie with a fork and make vents in the middle. 
Bake in a preheated oven at 400°F for 30 minutes or until the crust is golden brown.