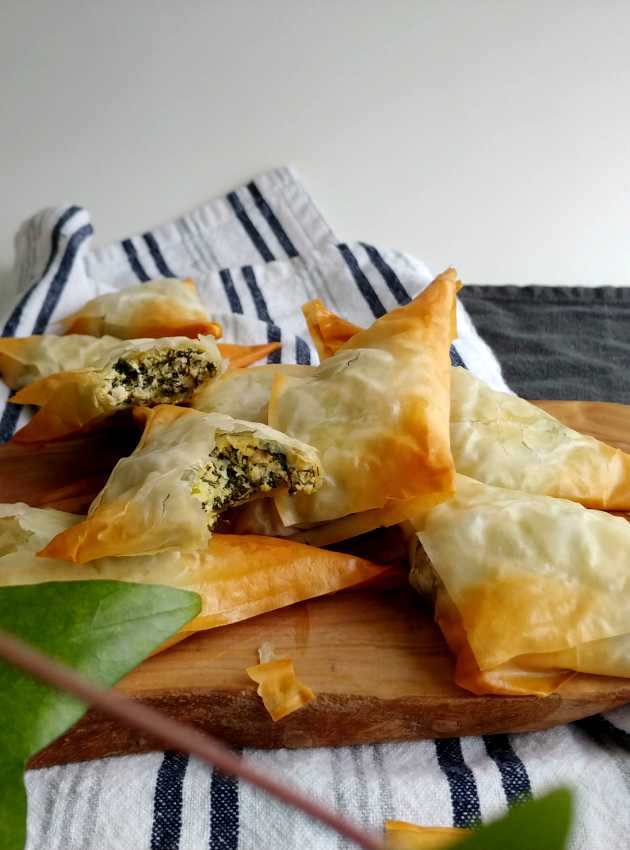 A Greek classic reinvented, and still satisfying! You'll impress a crowd with these crispy and tasty bites! Plus, they're egg and dairy free! For those in a hurry, there is also a short-cutted version to enjoy without origami.
Ingredients
300 g fresh spinach, finely chopped
15 ml (1 tbsp) water
125 ml (½ cup) raw sunflower seeds
60 ml (¼ cup) nutritional yeast (Red Star type, see note)
1 package (340 g) extra firm tofu
90 ml (6 tbsp) fresh lemon juice (about 1 ½ lemons)
5 ml (1 tsp) table salt
5 ml (1 tsp) chopped garlic (or 2 cloves)
Pepper to taste
250 ml (1 cup) fresh herbs, finely chopped (see note)
2 green onions, finely chopped
1 package 454 g (16 sheets) phyllo dough (see note)
45 ml (3 tbsp) unsweetened plant-based beverage, to brush over dough
15 ml (1 tbsp) canola oil, to brush over dough
Note: I love the dill in this recipe. If you're not a fan, that's okay, it can be substituted with parsley, basil or even cilantro, for a less classic version!
Unlike traditional yeast used to make bread or pizza dough rise, nutritional yeast is inactive. It is frequently used in vegan cooking for its richness in vitamin B12. As an added bonus, its light nutty and cheesy taste is a great addition to vegan meals... or not!
Phyllo dough is generally vegan. If you're concerned about this, check the package to be sure. This recipe calls for 8 sheets of phyllo dough. To make the 8 extra sheets worthwhile, why not make delicious apple turnovers out of them!
Preparation
Preheat the oven to 350°F (180°C) and line a baking sheet with parchment paper or a silicone mat.
In a high-sided skillet, cook spinach in a bit of water for about 4 minutes or until spinach has reduced considerably in volume. Reserve.
In a food processor, grind sunflower seeds and nutritional yeast to a fine granular texture. Add tofu, lemon juice, garlic and salt. Season generously with pepper and mix again.
Transfer tofu mixture to skillet, add herbs and green onions. Stir to combine.
For triangles (Dazzle the gallery!)
Spread a first sheet of phyllo dough on a damp dish towel. Using a kitchen brush, brush the sheet with your choice of plant-based beverage. Cut sheet lengthwise into thirds (see photo).
Place 1 heaping tablespoon of mixture at the edge of each strip of dough. Fold into a triangle (see photo). Fold the triangle over itself until the edge of the dough strip. If you want to eat them later, now is the time to freeze them.
Place the triangles on the baking sheet, brush them with plant-based beverage and bake them for 15 minutes or until they are golden. Be careful not to burn them!
Serve immediately. They can also be reheated in the oven if needed.
For a layered spanakopita (Faster - 15 minutes)
Oil a 23 cm x 28 cm (9'' x 13'') rectangular pan and crumple 4 sheets of phyllo dough in the bottom of the pan, one at a time. 
Spread the filling over the entire surface, then crumple the remaining 4 sheets on top. Using a kitchen brush, brush top sheets with plant-based beverage. Bake for 15 minutes and cut into 6 portions.