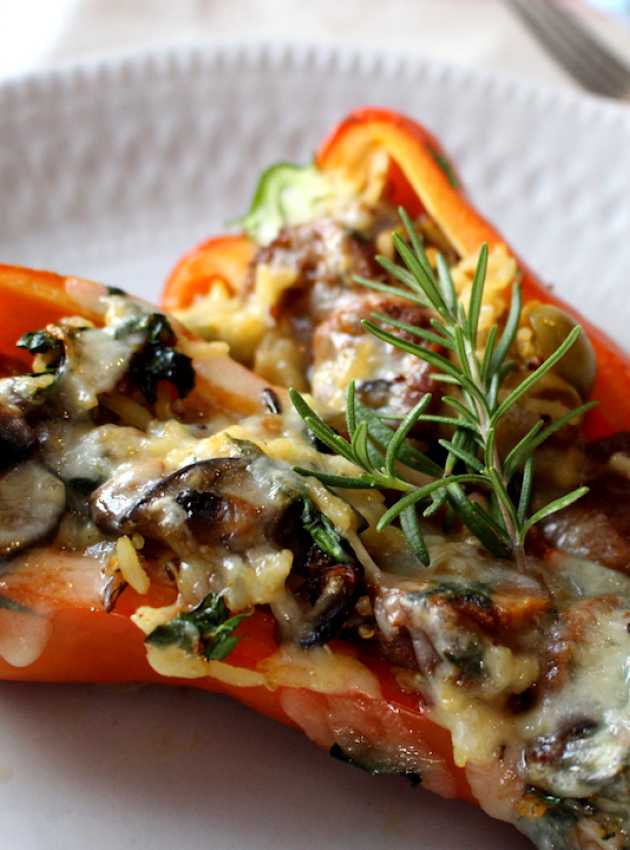 Looking for a hearty and healthy vegan meal? Look no further than our Vegan Sausage Stuffed Peppers - made with protein-packed tofu and wholesome whole grains, this dish will satisfy you while nourishing your body.
Ingredients
125 ml (½ cup) brown rice
5 ml (1 tsp) of oil 1 chopped onion
250 ml (1 cup) sliced mushrooms
60 ml (1/4 cup) sliced eggplant in half moons
15 ml (1 tbsp) balsamic vinegar
About 8 sliced green olives
1 sliced Italian GUSTA sausage
250 ml (1 cup) chopped spinach
2 red peppers (or other color), cut in half lengthwise
50 g of GUSTA cheese gratin
Fresh rosemary (optional)
Preparation
Preheat the oven to 400 ° F and spread parchment paper over a baking sheet.
In a saucepan of boiling water, cook the rice as indicated in the package. Put on the side.
In a skillet over medium heat, sauté the onion in the oil. Add mushrooms and eggplants, then cook it for about 5 minutes or until vegetables are lightly browned.
Add in the pan the balsamic vinegar, the olives and the sausage. Cook another 5 minutes while stirring occasionally.
Add the spinach and cook for about 3 minutes. Remove from fire.
Mix the rice with the vegetables, and then garnish the inside of the peppers with it by using a spoon before adding the GUSTA cheese on the top.
Put the peppers filled on the plate and cook for 10 minutes. Broil for a few minutes until the peppers are lightly browned.
Take out of the oven and garnish with fresh rosemary, if desired.