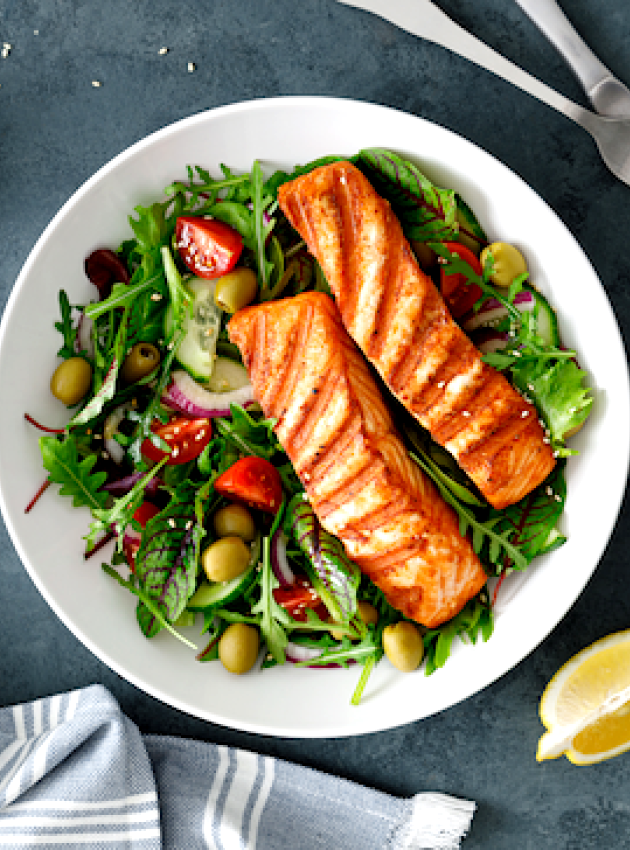 Experience the tantalizing fusion of flavors with this Thai Salmon Salad recipe, featuring succulent salmon, crisp vegetables, and a harmonious blend of Thai-inspired spices, offering a nourishing and delicious option to elevate your healthy eating routine.
Ingredients
Glazed salmon
Marinade
30 ml (2 tbsp) honey or maple syrup
30 ml (2 tbsp) salt-reduced soy sauce
2 tsp (10 ml) lemon juice
1 ml (¼ tsp) garlic powder
Pepper to taste
Salmon
4 salmon fillets
Sesame seeds (optional)
Thai salad
Dressing
60 ml (¼ cup) olive oil
30 ml (2 tbsp) honey or maple syrup
30 ml (2 tbsp) salt-reduced soy sauce
30 ml (2 tbsp) white vinegar
15 ml (1 tbsp) sesame oil
1 ml (¼ tsp) potted garlic (or 2-3 garlic cloves)
1 ml (¼ tsp) potted ginger (or double the amount of fresh ginger)
1 ml (¼ tsp) lime juice
Salad
1.5 L (6 cups) fresh spinach or other greens
250 ml (1 cup) pre-boiled edamame beans
250 ml (1 cup) chopped fresh coriander
125 (½ cup) cashews, chopped
3 green onions, thinly sliced
2 peppers, sliced into strips
1 large carrot, julienned
1 Asian pear, julienned
Preparation
Salmon
Preheat the oven to 425°F (220°C)
In a bowl, whisk together the marinade ingredients. 
Marinate the salmon fillets for about 2h in the refrigerator; if you're short on time, you can simply brush them with the marinade (it will be just as delicious).
Place the salmon fillets on a baking sheet and sprinkle them with sesame seeds.
Bake the salmon fillets for 8 to 10 minutes, depending on the fillet's thickness.
Vinaigrette
In a bowl, vigorously whisk together the dressing ingredients.
In another bowl, combine the salad ingredients.
Add the desired amount of dressing to the salad, toss and garnish with glazed salmon.
Notes
Can be stored up to 4 days in the refrigerator in airtight containers, salmon, salad, and dressing separated.