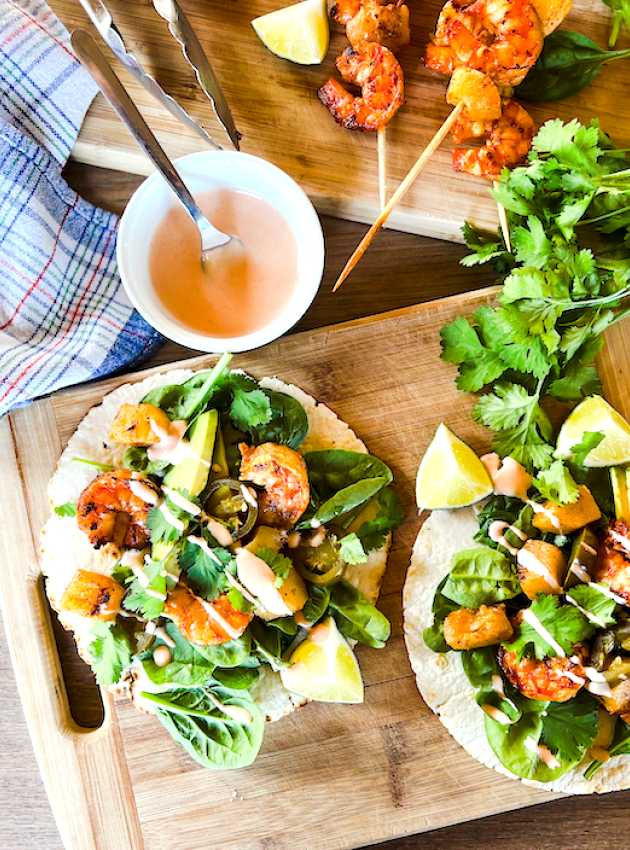 These shrimp and Cajun pineapple tacos are perfect for a tasty and light meal. The spicy shrimp is accompanied by juicy pineapple, creating a deliciously balanced combination.
Ingredients
15 ml (1 tbsp) of olive oil
Juice of ½ lime (or 15 ml / 1 tbsp) and more as needed
5 ml (1 tsp) Cajun spice blend
225 g (½ lb) extra-large shrimp, peeled, frozen, and thawed
30 ml (2 tbsp) mayonnaise
15 ml (1 tbsp) plain Greek yogurt, 0% fat
7.5 ml (½ tbsp) hot sauce, like Frank's RedHot
250 ml (1 cup) canned pineapple chunks, drained
8 soft tortillas (we used Keto wrap style by Bon Matin)
250 ml (1 cup) fresh baby spinach
1 medium ripe avocado, thinly sliced
30 ml (2 tbsp) pickled jalapenos
Fresh cilantro, to taste
Preparation
Preheat the barbecue to high heat.
In a medium bowl, mix the olive oil, lime juice, and Cajun spice blend. Add the shrimp and let it marinate for 10 minutes.
In a small bowl, mix the mayonnaise, Greek yogurt, and hot sauce until well combined. Refrigerate for later use.
Thread the marinated shrimp and pineapple chunks onto skewers alternately. Cook the skewers on the barbecue for 5 to 10 minutes on each side, until the shrimp becomes crispy.
While the skewers are cooking, warm the tortillas on the barbecue for about 30 seconds on each side.
To assemble the tacos, place a bed of baby spinach on each tortilla. Add 2 to 3 shrimp and some pineapple pieces removed from the skewers. Top with sliced avocado, pickled jalapenos, fresh cilantro, and an additional drizzle of lime juice to taste. Add the reserved hot sauce mixture.
Serve the tacos immediately.
Notes
The assembled tacos should not be refrigerated or frozen. Serve immediately.