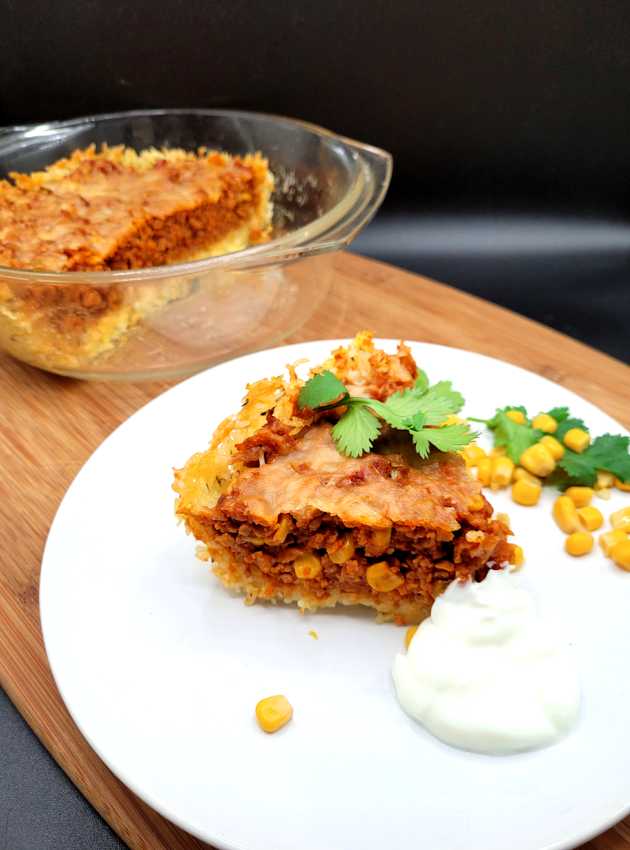 Discover our flavorful recipe for Mexican-Style Veggie Pie on a Rice Crust. Indulge in a burst of Mexican flavors with a crispy crust. Don't miss out on this spicy and delicious vegetarian tart!
Ingredients
For the crust :
1 egg
500 ml (2 cups) rice, cooked
80 ml (⅓ cup) grated Parmesan cheese
5 ml (1 tsp) garlic powder
5 ml (1 tsp) dried thyme
Pepper, to taste
For the PVT topping:
250 ml (1 cup) water
250 ml (1 cup) PVT (textured vegetable protein)
½ white onion, chopped
1 clove garlic, minced
2 stalks celery, finely chopped
125 ml (½ cup) chili sauce
60 ml (¼ cup) ketchup
15 ml (1 tbsp) soy sauce
15 ml (1 tbsp) chili powder
7.5 ml (½ tbsp) paprika
60 ml (¼ cup) corn kernels, frozen or canned
80 ml (⅓ cup) grated Parmesan cheese
To garnish:
125 ml (½ cup) plain 0% m.f. Greek yogurt.
Fresh cilantro, to taste (optional)
Note: if you don't have already cooked rice, you can use 5 7-inch (18 cm) wheat tortillas as a crust. Place 4 tortillas in the pie plate, overlapping them so they cover the sides of the pan well. Place the other tortilla in the center, on top of the others. However, this variation will change the nutritional values of the recipe.
Preparation
For the crust :
Preheat the oven to 350°F (175°C).
In a medium bowl, combine all crust ingredients.
Press rice mixture onto bottom and sides of 20 cm (8-inch) diameter pie plate.
Bake for 15 minutes and let cool for about 5 minutes.
For the PVT topping:
Meanwhile, heat water over high heat in a large non-stick skillet.
At the first boil, stir in the PVT. Reduce heat to low and let stand for about 5 minutes, stirring as needed, until no water remains.
Add onion, garlic and celery. Raise to medium heat and cook, stirring, for 2 minutes.
Add remaining topping ingredients, except Parmesan cheese. Cook and stir until the liquid has completely evaporated.
Spoon mixture into rice crust and smooth surface.
Sprinkle grated Parmesan cheese over the surface in an even layer.
Bake for 25 to 30 minutes.
Serve each portion with about 30 ml (2 tbsp) of Greek yogurt. Sprinkle with a little coriander, to taste (if desired). Serve with a fresh salad, raw vegetables or soup for a complete meal!
Notes
Can be kept for 3 days in the refrigerator.