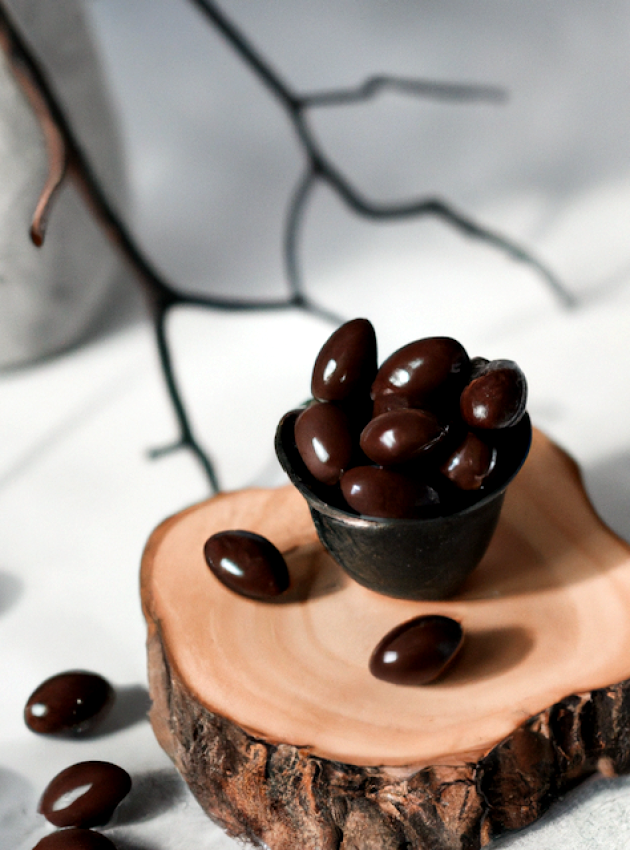 These low-sugar, chocolate-covered almonds are a treat for everyone, including people with diabetes. Ideal for a light dessert or comfort snack.
Ingredients
250 ml (1 cup) raw almonds
60 ml (1/4 cup) dark chocolate (or 45 g / 1.5 oz) (see note)
15 ml (1 tablespoon) coconut oil
15 ml (1 tablespoon) honey or maple syrup
2.5 ml (1/2 teaspoon) vanilla extract
A pinch of salt
 
Note: For a low-sugar option, choose baking chocolate. Otherwise, dark or semi-sweet chocolate chips are also good choices.
Preparation
Preheat the oven to 375°F (165°C). Dry roast the almonds for 8 to 10 minutes until they are golden. Let them cool.
Meanwhile, in a medium bowl, melt the chocolate with the coconut oil in the microwave in 20-second intervals.
Once well melted, stir in the honey, vanilla extract, and salt. Set aside.
Coat the roasted almonds in the chocolate mixture, making sure each almond is well coated.
Spread the coated almonds on a baking sheet lined with wax paper, ensuring they do not touch.
Refrigerate for at least 20 minutes before transferring the almonds to an airtight container.
Notes
Can be stored in an airtight container in the refrigerator for 2 weeks.