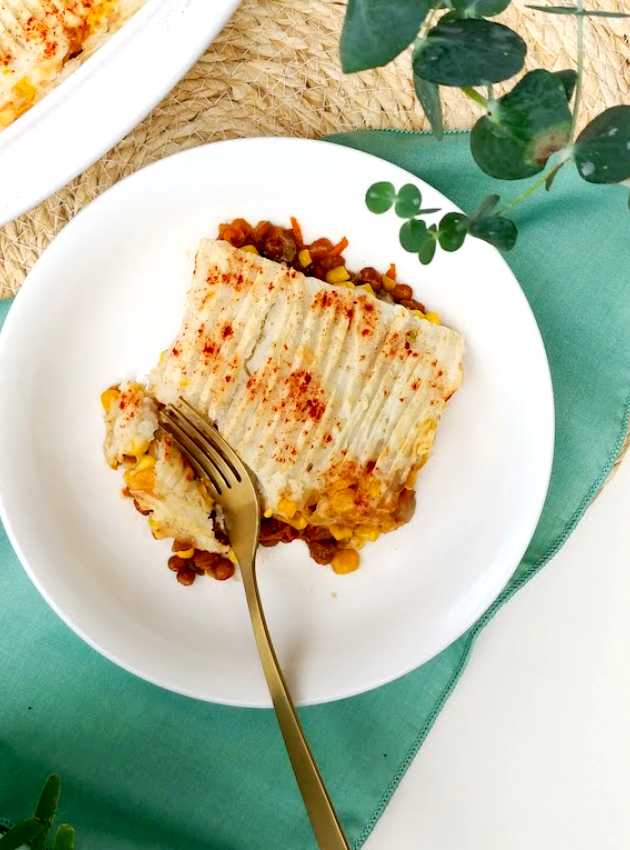 Indulge in comfort with our Lentil Shepherd's Pie. A warm twist on the classic, combining flavorful lentils for a truly satisfying culinary experience.
Ingredients
4 medium potatoes (about 850 g), peeled and cubed
10 ml (2 tsp) olive oil
1 clove garlic, finely chopped (or 5 ml / 1 tsp)
1 large onion, finely chopped
1 large carrot, finely chopped
2 cups green lentils, cooked or 1 can (540 ml) lentils, rinsed and drained 
1 can (14 oz / 398 ml) creamed corn
1 can (12 oz / 341 ml) corn kernels
125 ml (½ cup) milk
15 ml (1 tbsp) tamari or soy sauce (see note)
A few drops of Tabasco (or other hot sauce)
5 ml (1 tsp) dried herbs, as desired
45 ml (3 tbsp) fresh parsley, finely chopped
Pepper, to taste
Note: For a gluten-free version, use tamari sauce specially marked gluten-free.
Preparation
Preheat oven to 180°C (350°F).
In a pot, bring water to a boil and cook potatoes until tender. Drain and mashed potato with milk. Season with pepper and set aside.
In a saucepan, heat oil over medium heat. Sauté garlic, onion and carrots until tender, then add lentils, tamari sauce, Tabasco and herbs.
Mix well and pour into an ovenproof dish.
In a bowl, mix the creamed corn and corn kernels, then add this mixture to the lentil mixture. Cover with mashed potatoes and sprinkle with paprika.
Bake for 30 to 40 minutes.
To serve, add a little fresh parsley and enjoy!
Notes
You can prepare the shepherd's pie up to step 5 and store it in the refrigerator or freeze it to have a ready-made meal during the week! To do so, let the mixture cool, cover with plastic wrap and keep refrigerated. Keeps for 2 to 3 days. At mealtime, simply cook!