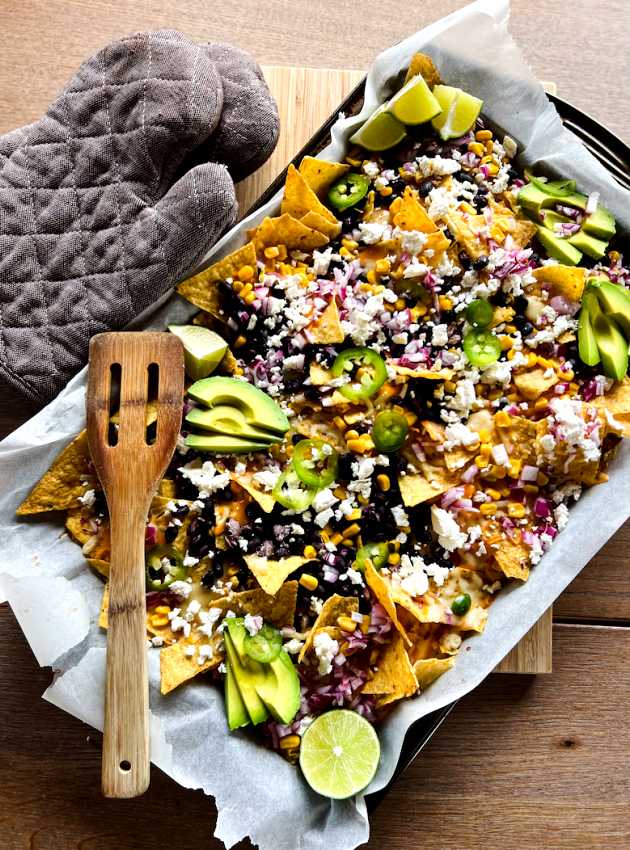 Get ready to savor a healthier and delicious version of traditional nachos! Our healthy nacho recipe is not only a treat for your taste buds but also a complete meal, as it's rich in both fibre and protein and bursting with vibrant colors!
Ingredients
1 bag (350 g) of unsalted tortilla chips
320 g (3 cups) of light Tex-Mex shredded cheese (21% M.F.)
1 can of 540 ml (19 oz) black beans, rinsed
1 can of 195 ml (7 oz) corn, rinsed
½ red onion, diced into 0.5 cm pieces
90 g (3 oz) crumbled feta cheese (22% M.F.)
1 jalapeño pepper, thinly sliced (optional)
1 avocado, pitted and thinly sliced lengthwise (optional)
1 lime, cut into quarters
175g (¾ cup) of plain Greek yogurt, 0%
Preparation
Preheat the oven to 350°F (180°C).
Arrange the tortilla chips on a large baking sheet lined with parchment paper.
Evenly sprinkle the shredded cheese and black beans over the tortilla chips.
Bake for approximately 15-20 minutes or until the cheese is melted and the edges of the chips start to turn golden.
Add the corn, red onion, feta cheese, and jalapeño (if desired) evenly over the hot nachos.
Serve the nachos immediately, garnished with avocado slices and lime quarters.
Serve with Greek yogurt to mimic sour cream.
Note: You can also add extra toppings to taste, such as finely chopped fresh cilantro or salsa.
Notes
Do not refrigerate. Does not freeze.