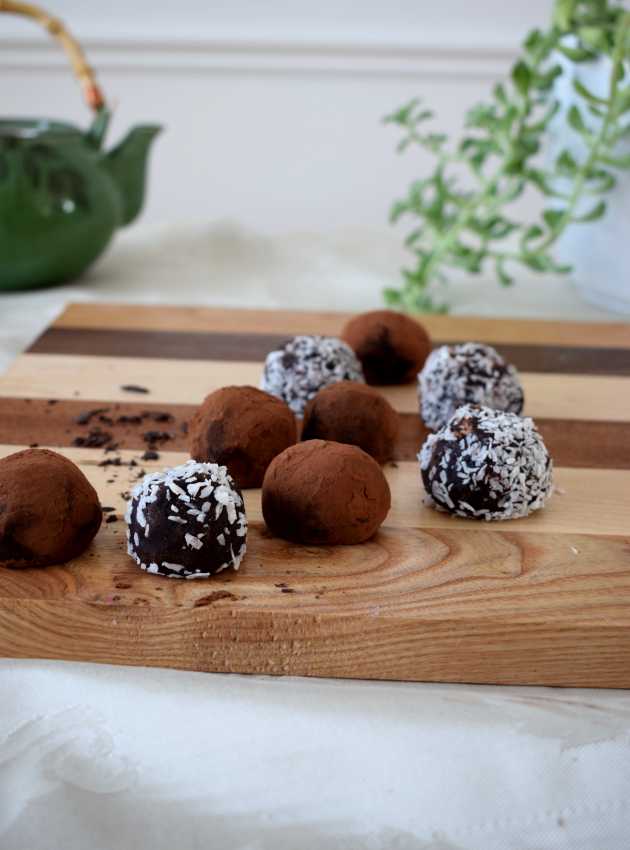 Need a quick and easy dessert for a dinner with friends or a gourmet gift to give? Here is the perfect truffle recipe for any occasion that will please anyone who loves chocolate! This lighter version of traditional truffles is also very original, rich in fiber and does not compromise on taste. Enjoy!
Ingredients
250 ml (1 cup) dates
125 ml (½ cup) water
60 ml (¼ cup) sesame butter (tahini) or almond butter or peanut butter
60 ml (¼ cup) cocoa powder
15 ml (1 tbsp) honey
1 pinch of salt
Coating
15 ml (1 tbsp) cocoa powder
15 ml (1 tbsp) shredded coconut, unsweetened
Preparation
In a saucepan, cook dates with water until soft, about 5 minutes.
In a blender, grind the dates. Add tahini and honey until smooth.
Transfer to a bowl and add the cocoa and a pinch of salt. Mix well.
Set the mixture aside in the refrigerator for at least 15 minutes.
Place the cocoa powder and coconut in two separate small plates.
Take about 1 tablespoon of the mixture. Place in the cocoa. Dip your fingers in the cocoa to roll the truffle without sticking and form a small ball with your hands. Once the truffle is well-rounded, dip the ball again in the cocoa or in the coconut and coat well. Repeat for each truffle until the mixture is complete.
Conservation
Can be stored for 7 days in the refrigerator in an airtight container or 6 months in the freezer. Take out at least 10-15 minutes before eating for more flavor.