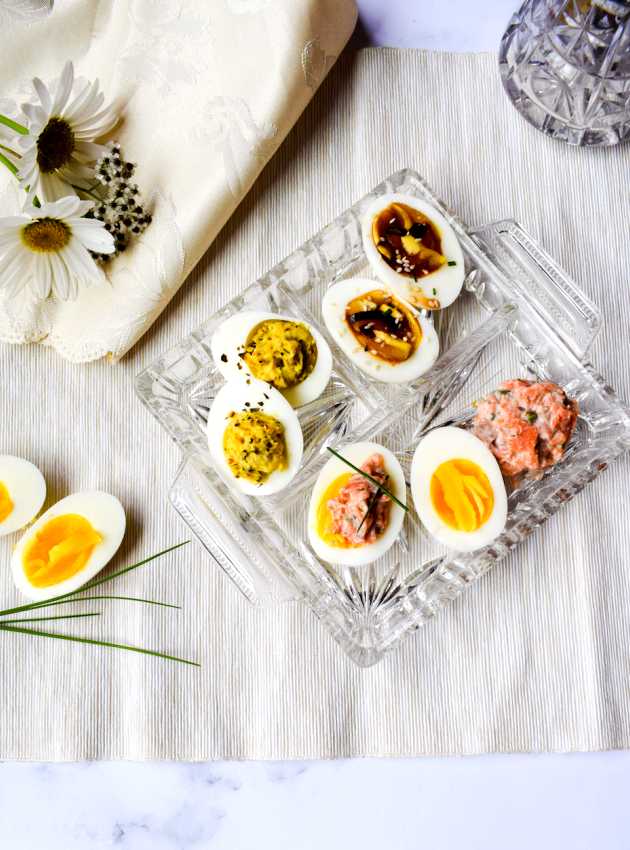 Is your snack tooth is more salty than sweet? In need of original, nutritious ideas to tide you over until your next meal? We've got the solution for you. Hard-boiled eggs, 3 succulent versions to vary your snacks and satisfy your cravings in a magnificent way.
Ingredients
1 large egg, hard-boiled, cut lengthwise into 2 pieces
2.5 ml (½ tsp) green onion, finely chopped
2.5 ml (½ tsp) soy sauce, reduced in sodium
1.25 ml (¼ tsp) ginger root, peeled and finely chopped (jarred pickled ginger available)
1.25 ml (¼ tsp) sesame oil
1.25 ml (¼ tsp) rice vinegar (or white wine vinegar)
Topping
Preparation
In a small bowl, combine all ingredients except the egg.
Top each egg half with the mixture. Sprinkle with sesame seeds, if desired.
Notes
Can be kept for 5-7 days in an airtight container in the refrigerator.
 
Try these other flavor variation
Smoked salmon version
1 large egg, hard-boiled, cut lengthwise into 2 pieces
30 g (1 oz) smoked salmon, chopped
5 ml (1 tsp) 0% plain yogurt (or light mayonnaise)
2.5 ml (½ tsp) capers, chopped
2.5 ml (½ tsp) chives, finely chopped
1.25 ml (¼ tsp) lemon juice
Dill, to taste, optional

Curry version
1 large egg, hard-boiled, cut lengthwise into 2 pieces
5 ml (1 tsp) 0% plain yogurt (or light mayonnaise)
1.25 ml (¼ tsp) whole-grain mustard
1.25 ml (¼ tsp) curry powder
1 pinch salt
Parsley, to taste