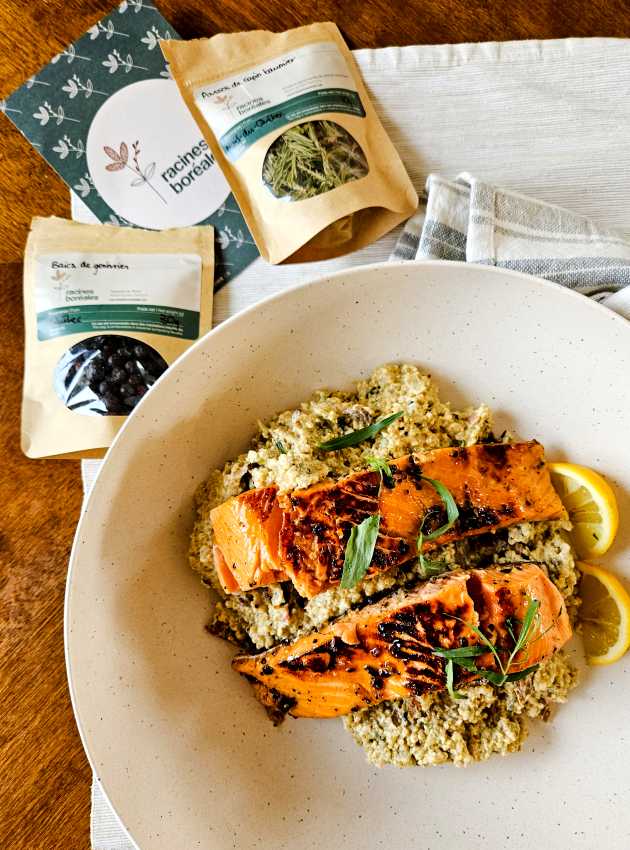 This comforting dish skillfully combines northern flavours to create an exceptional harmony of tastes. In partnership with Racines Boréales, a Quebec-based company dedicated to promoting local shopping and regional economy, we invite you to delve into the richness of boreal ingredients for a tasty and unforgettable culinary experience.
Ingredients
For the Lobster Mushroom Quinoa  
625 ml (2 ½ cups) of boiling water  
1 20g bag of dehydrated lobster mushrooms from Racines Boréales  
250 ml (1 cup) soy creamer (such as Belsoy)  
10 ml (2 tsp) concentrated chicken broth (or powder)  
10 ml (2 tsp) jarred minced garlic (or 2 cloves, finely chopped)  
5 ml (1 tsp) oil (or butter)  
2 French shallots, chopped  
250 ml (1 cup) dry quinoa, rinsed and drained  
60 ml (¼ cup) white wine  
60 ml (¼ cup) grated parmesan  
30 ml (2 tbsp) fresh tarragon, roughly chopped  
Salt and pepper  
For the Salmon
15 ml (1 tbsp) dehydrated juniper berries from Racines Boréales  
2-3 sprigs of dehydrated young balsam fir shoots from Racines Boréales  
A pinch of salt  
5 ml (1 tsp) oil (or butter)  
1 lemon  
7.5 ml (½ tbsp) jarred minced garlic (or 1 clove, finely chopped)  
600 g (4 fillets) skin-on salmon  
7.5 ml (½ tbsp) honey  
Note: If you like your salmon extra lemony, feel free to add more lemon juice during cooking.  
Preparation
In a bowl, rehydrate the mushrooms in boiling water for about 10 minutes. Strain through a sieve into another bowl, keeping the soaking water. Drain and roughly chop the mushrooms. Set aside.
In a small saucepan over low heat, warm the mushroom water and add the chicken broth, soy creamer, and garlic.
In a large pan, heat the oil and sauté the shallots for 2-3 minutes. Add the mushrooms and quinoa, cooking for 1 minute while stirring. Add the wine and reduce almost completely.
Over medium heat, add the prepared broth, one cup at a time, to the quinoa mixture. Stir frequently until the liquid is fully absorbed. Continue for 20-25 minutes or until the quinoa is cooked. Stir in the parmesan and tarragon to finish cooking. Reserve.
In a mortar, vigorously crush the juniper berries and balsam fir shoots with salt. Reserve.
In a pan, heat the oil over medium-low heat. Add the boreal spice mix, juice from half a lemon, and garlic. Cook the salmon, skin-side down, for 5-8 minutes. Add honey before flipping. Finish cooking for an additional 2-3 minutes. Adjust cooking time for your desired salmon doneness.
Serve the salmon on top of the creamy quinoa and garnish with the remaining lemon wedges and some fresh tarragon leaves.
Notes
Store for up to 2 days in an airtight container in the refrigerator. Freezes for up to 2 months.