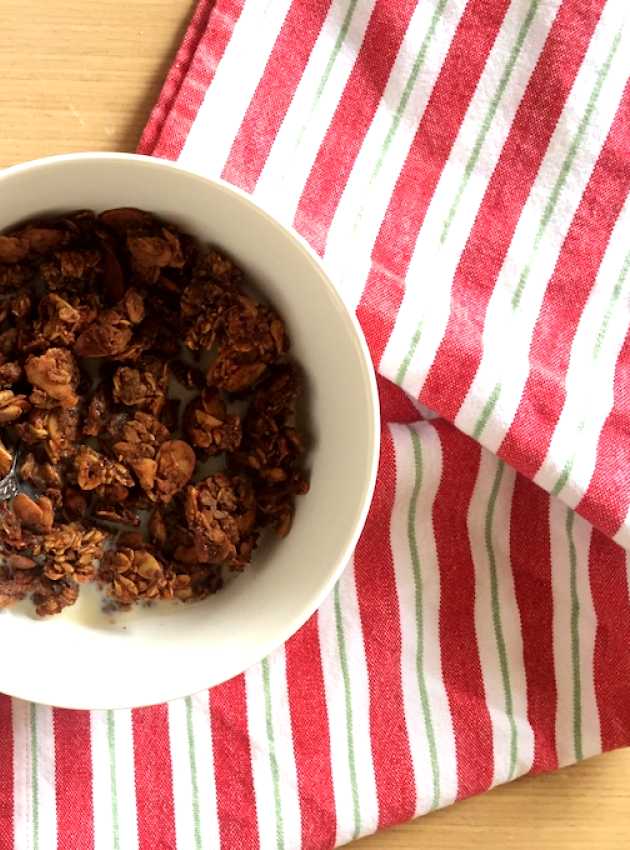 Indulge in the rich flavors of our homemade Cocoa Granola recipe. Made with wholesome ingredients and a touch of cocoa, this crunchy and nutritious treat is perfect for breakfast or snacking.
Ingredients
1 Banana (1/2 cup)
125 ml (½ cup) Applesauce
65 ml (¼ cup) almond butter
2.5 ml (½ tsp) cinnamon
2.5ml (½ tsp) vanilla
A pinch of salt
30 ml (2 tbsp) of cocoa
30 ml (2 tbsp) maple syrup
625 ml (2 ½ cup) large flake oats
125 ml (½ cup) sliced almonds
125 ml (½ cup) pumpkin seeds and/or sunflower seeds
Preparation
Preheat the oven to 375°F.
Mash the banana with a fork. Measure the banana puree with the help of a 250ml measuring cup and add enough applesauce to complete the measuring cup.
Place the fruit puree in a medium saucepan and add the almond butter, cinnamon, vanilla, cocoa, maple syrup and pinch of salt.
Over low heat, stir the ingredients until the mixture is smooth and homogeneous.
Add the oats, almonds and seeds. Mix well.
Spread the mixture in an even layer on a baking sheet fitted with parchment paper.
Place the baking sheet in the oven. After 30 minutes, take the baking tray out of the oven to stir the granola. Return to the oven. Cooking time may vary from oven to oven, but should take another 20-30 minutes. Stir the granola every 10 minutes for the remaining time. Granola is ready when golden and crispy.