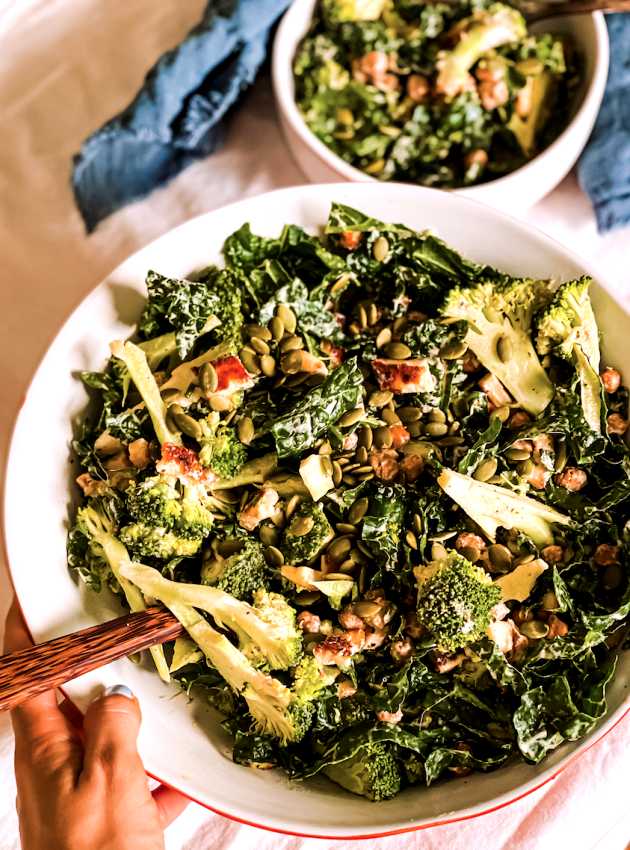 This broccoli, halloumi, and grilled chickpea salad is perfect for your BBQ dinner or lunch! It offers a crunchy and refreshing mix of flavors. You can enjoy it as a complete meal or serve it as a side dish for 6 to 8 people!
Ingredients
1 can (540 ml) chickpeas, rinsed and drained
15 ml (1 tablespoon) olive oil
10 ml (2 teaspoons) dried Italian herbs
Pepper and salt to taste
One broccoli, cut into small florets
1 L (4 cups) chopped black kale
170 g (6 oz) halloumi cheese, cubed
60 ml (¼ cup) raw pumpkin seeds
Dressing:
125 ml (½ cup) plain Greek yogurt
60 ml (¼ cup) light mayonnaise
4 sun-dried tomatoes, chopped
The juice of half a lemon
30 ml (2 tablespoons) fresh herbs of your choice (basil, dill, chives, etc)
Pepper to taste
Preparation
Preheat the oven to 400°F (200°C) and line a baking sheet with parchment paper. Place the chickpeas on the baking sheet, drizzle with olive oil, sprinkle with Italian herbs, pepper, and salt. Mix the ingredients on the baking sheet and bake in the oven for 20 minutes.
Meanwhile, in a medium-high heat pan, dry-grill the halloumi cheese for about 3 minutes on each side. Set aside.
Steam the broccoli for 5 to 8 minutes or until desired tenderness. Rinse with cold water and set aside.
In a large bowl, whisk together all the dressing ingredients. Add the chopped kale, grilled halloumi, pumpkin seeds, steamed broccoli, and the roasted chickpeas. Mix well and serve!
Notes
This salad can be stored in the refrigerator for 2 to 3 days, but it's best enjoyed immediately.