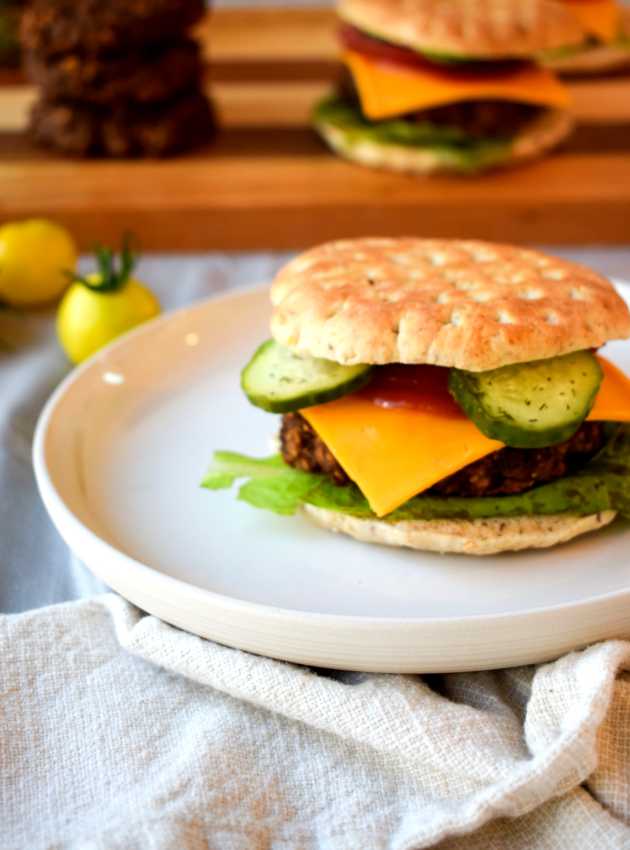 This veggie burger won't leave you hungry! Hearty, flavorful, and simple, this burger is perfect for a high fiber vegetarian option.
Ingredients
227 g (½ lb) mushrooms, roughly chopped

1 can of 540 ml (19 oz) black beans, drained and rinsed

1 large egg

250 ml (1 cup) Corn Flakes cereal, or ½ cup cornmeal

15 ml (1 tbsp) BBQ sauce

15 ml (1 tbsp) reduced-sodium soy sauce or Worcestershire sauce

7.5 ml (½ tbsp) minced garlic (or 1-2 cloves)

2.5 ml (½ tsp) smoked paprika

1.25 ml (¼ tsp) cumin

Pepper and salt

6 whole grain round buns (or hamburger buns)
Choice of toppings:
Tomato slices

Lettuce leaves

Condiments (ketchup, mayonnaise, mustard, etc.)

Slices of cheddar cheese

Pickles

Onion
Preparation
Preheat the oven to 375°F (190°C) and line a baking sheet with parchment paper or a silicone baking mat.

In a food processor, combine all the patty ingredients and mix well.

Use a portion scoop to form 6 patties. With slightly damp hands, shape the patties and place them on a baking sheet.

Bake in the oven for 35 minutes, turning 5-10 minutes before the end of cooking. Extend the cooking time if you make thicker patties.
Note: It's normal for the mixture to be too soft to shape into patties by hand. Use a 60 ml / 2 oz portion scoop (or an ice cream scoop) to make uniform patties. Then, they can be shaped with damp hands.
Notes
Can be kept for 5 days in an airtight container in the refrigerator. The patties can be frozen for 3 months in an airtight container.