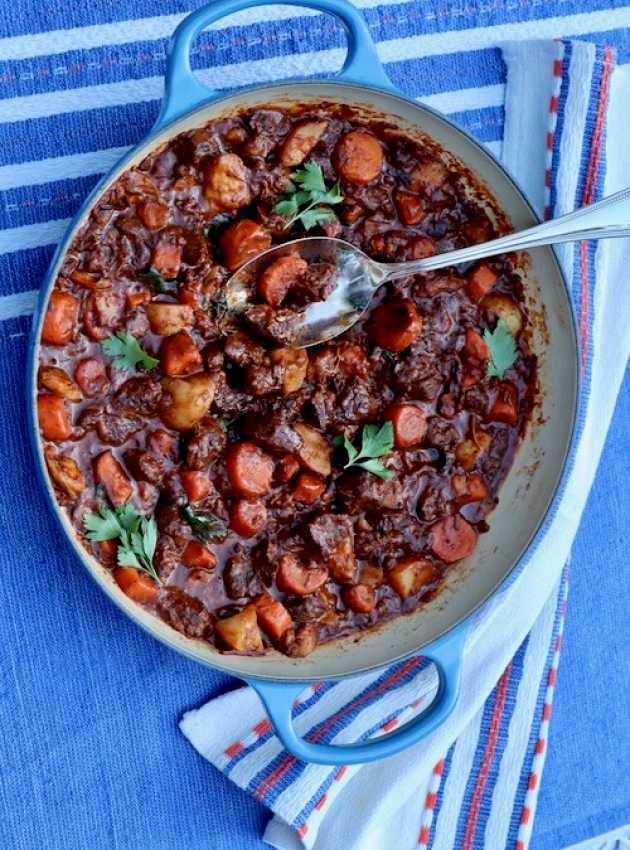 Discover our delicious recipe for red wine beef stew, a comforting and flavorful dish that features tender beef infused with the rich aromas of red wine. Let yourself be enchanted by this slow-cooked preparation that promises an explosion of flavors with every bite.
Ingredients
30 ml (2 tbsp) garlic-flavoured olive oil
675g (1 1/2 lbs) boneless beef blade blade roast, cut into large 4 cm (1.5 in.) cubes
30 ml (2 tbsp) rice flour
2 green onions, chopped
4 carrots, peeled and sliced into rounds
8 baby potatoes cut in half
One 796 ml (28 oz) can of diced tomatoes
1/3 cup (80 ml) tomato paste
2 cups (250 ml) water
250 ml (1 cup) dry red wine
45 ml (3 tbsp) fresh thyme
30 ml (2 tbsp) fresh rosemary salt and pepper to taste
60 ml (1/4 cup) fresh parsley, chopped (garnish)
Note: 
To make your own garlic-flavoured olive oil, sauté 8-10 cloves of garlic (do not chop or mince the cloves) in 1 cup of olive oil for 2-3 minutes. Remove the garlic afterwards. The FODMAPs are not fat soluble, so you can enjoy the garlic aroma in this stew. 
Choose diced tomatoes without onions or added garlic for a recipe without FODMAPs.
Preparation
In a large saucepan, heat half of the olive oil over medium heat.
In a bowl, add the beef cubes and rice flour, season with salt and pepper. Coat the beef cubes well.
Sear the beef cubes in the saucepan. Cook for about 2-3 minutes on each side. Remove the meat from the pan.
In the same saucepan, add the remaining olive oil and add the carrots, potatoes and green onions. Cook for about 3-4 minutes.
Add the tomato paste. Cook 1 minute more.
Add the meat cubes and red wine and cook for about 2 minutes or until the sauce thickens.
Add diced tomatoes, thyme, rosemary and water. Mix well and season. Cover and simmer for 1h30, removing the lid during the last 30 minutes. Stir for a while, until the beef is tender and the consistency of the stew is thick.
Remove pan from heat. Garnish with parsley. Adjust seasoning. Serve with brown rice.