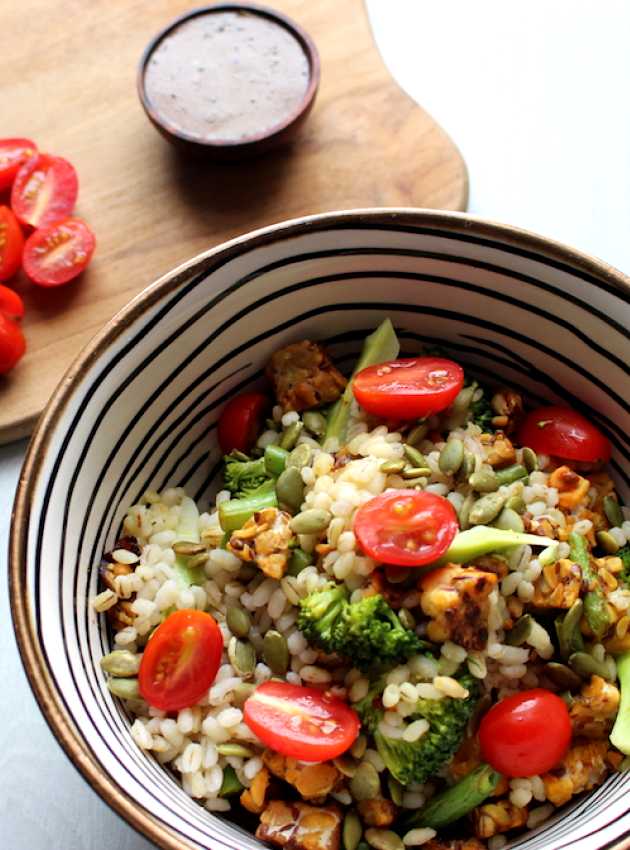 Indulge in the wholesome goodness of our Barley and Tempeh Salad. A perfect blend of nourishing ingredients, delivering a delightful harmony of flavors and textures. Elevate your mealtime with this nutritious and satisfying delight!
Ingredients
250 ml (1 cup) of pearl barley
240 g (1 block) of tempeh, cut into small cubes
250 ml (1 cup) of green beans, cut into pieces
15 ml (1 tbsp) of oil
15 ml (1 tbsp) of soy sauce
10 ml (2 tsp) of sambal oelek (Indonesian chili paste)
15 ml (1 tbsp) of Dijon mustard
5 ml (1 tsp) of ground turmeric
1/2 broccoli, cut into florets
Approximately 10 cherry tomatoes, cut in half
30 ml (2 tbsp) of pumpkin seeds
Balsamic Vinaigrette
15 ml (1 tbsp) of Dijon mustard
15 ml (1 tbsp) of balsamic vinegar
1 clove of garlic, minced
1 green onion, chopped
45 ml (3 tbsp) of olive oil
15 ml (1 tbsp) of water
5 ml (1 tsp) of dried herbs
Salt and pepper to taste
Preparation
In a pot of salted boiling water, cook the barley for 20 minutes over medium heat or until tender. Add the broccoli after 15 minutes for the last 5 minutes of cooking. Drain and rinse under cold water.
Meanwhile, in a pan, grill the tempeh in oil over medium heat with the green beans for 3 minutes. Add the soy sauce, sambal oelek, Dijon mustard, and turmeric, and cook while stirring occasionally for 5-7 minutes. Set aside.
Using a fork, mix all the vinaigrette ingredients together.
In a large bowl, mix the barley and broccoli mixture with the tempeh and green beans mixture. Add the vinaigrette, then mix everything together.