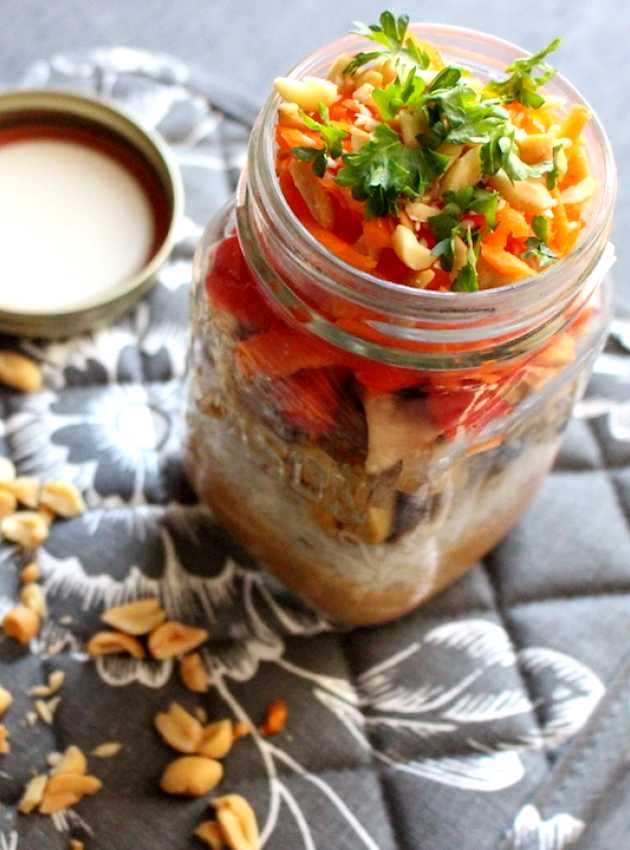 Discover our "Asian in a Pot" recipe: rice noodles, tofu, crispy vegetables, and a flavorful peanut sauce come together to create an explosion of Asian flavors in one dish. Get ready to be transported to distant lands with this easy and delicious recipe!
Ingredients
250 ml (1 cup) of rice noodles
1/2 onion, chopped
175 g of tofu, cubed
15 ml (1 tbsp) of olive oil
125 ml (1/2 cup) of mushrooms, chopped
125 ml (1/2 cup) of red pepper, cubed
2 big carrots, cut julienne style
10 ml (2 tsp) of sesame seeds
125 ml (1/2 cup) of fresh coriander
30 ml (2 tbsp) of peanuts, chopped
Salt and pepper, to taste
Ingredients peanut sauce
30 ml (2 tbsp) of natural peanut butter
65 ml (1/4 cup) of water
5 ml (1 tsp) d'huile de sésame
15 ml (1 tbsp) of reduced-sodium soy sauce
2,5 ml (1/2 tsp) of Sriracha
1/4 tsp of garlic paste or 1 chopped garlic clove
Preparation
Cook noodles in boiling water during 2 minutes, then drain.
Grill the tofu and the onion in a pan with the sesame oil and the garlic. After 5 minutes, add the mushrooms. Cook 5 minutes. Add salt and pepper as desired.
For the sauce, heat the peanut butter with the water 40 seconds in the microwave. Add the remaining ingredients for the sauce and stir.
Pour the peanut sauce in a deep pot. Add the noodles, the red peppers, the tofu mix, the carrots, the sesame seeds, the coriander and the peanuts on top. If you eat this recipe in a pot, make sure to leave some space on top to stir!