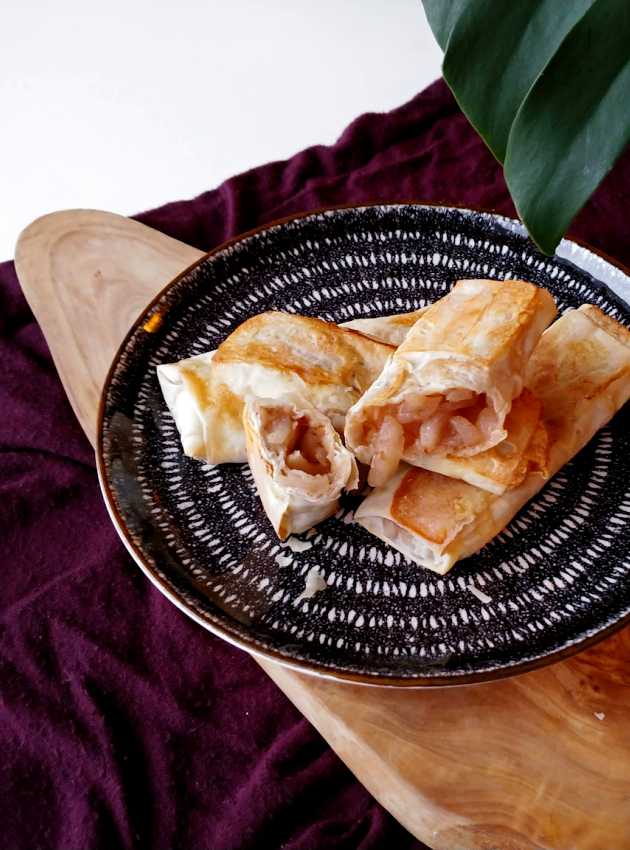 Indulge in our irresistible recipe for crispy and golden Apple Turnovers. Discover the perfect blend of tender apples, sweet maple syrup, and warming cinnamon encased in flaky phyllo dough, creating a delectable treat that will satisfy your cravings with every bite.
Ingredients
15 ml (1 tbsp) cornstarch
2 ml (½ tsp) ground cinnamon
3 Cortland apples, seeded and diced
15 ml (1 tbsp) maple syrup
15 ml (1 tbsp) lemon juice
½ package of 454 g (8 sheets) phyllo pastry
30 ml (2 tbsp) plant-based beverage of choice or water
15 ml (1 tbsp) canola oil for brushing on turnovers
Maple sugar, for garnish (optional)
Note: Phyllo dough is generally vegan. If you are concerned about this, check the package to be sure. This recipe calls for 8 sheets of phyllo dough. To make the extra 8 sheets worthwhile, why not double the recipe or make delicious Vegan Spanakopitas with it?
Preparation
Preheat the oven to 375°F (190°C) and line a baking sheet with parchment paper or a silicone mat.
In a saucepan, off the heat, mix well the cornstarch and cinnamon. Add apples, maple syrup and lemon juice; toss to coat all apple pieces.
In a saucepan over medium, heat and cook the apples for 5 minutes, stirring often, until slightly softened. Set aside to let cool.
On a damp cloth, place 2 sheets of phyllo dough on top of each other. Cut into 4 equal rectangles.
Place about 30 mL (2 tbsp) of apple filling on each rectangle, at the end close to you.
Using a kitchen brush, brush the edges of each rectangle with plant-based beverage.
Gently fold over the edges and roll into a cylinder. Repeat to make 4 rolls.
Repeat steps 4 to 7 for a total of 12 turnovers. If you want to enjoy them later, it's time to freeze them.
Place the turnovers on the baking sheet and brush with oil. Sprinkle with maple sugar if desired.
Bake for 15 minutes or until lightly browned. Be careful not to burn them.
Serve immediately, they can be reheated in the oven if needed.