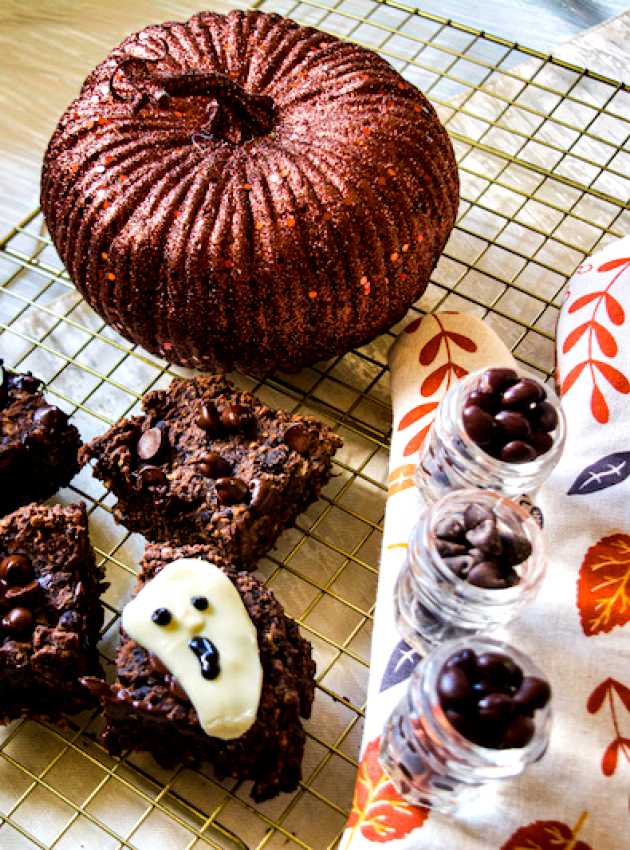 Discover our delicious recipe for Black Bean and White Chocolate Ghost Brownies. These brownies are moist, flavorful, and perfect for Halloween.
Ingredients
250 g (1 ½ cups) black beans, rinsed and drained
80 g (1 cup) rolled oats
10 g (2 tbsp) cocoa powder
20 g (4 tbsp) flaxseed
60 ml (¼ cup) maple syrup
1 g (½ tsp) baking powder
10 ml (2 tsp) vanilla extract
45 ml (3 tbsp) vegetable oil (divided)
1.25 ml (¼ tsp) salt
50 g (¼ cup) semi-sweet chocolate chips
50 g (¼ cup) white chocolate chip (optional)
Mark with dark icing (optional)
Preparation
Preheat the oven to 350˚F (180˚C).
In a food processor, combine black beans, oats, cocoa powder, flaxseed, maple syrup, magic baking powder, vanilla extract, 2 tablespoons vegetable oil and salt. Blend until smooth.
Transfer the mixture to a bowl. Add 30g of chocolate chips, save the rest for later.
Place parchment paper in a baking sheet. Transfer the dough to the baking sheet.
Sprinkle remaining chips on top of dough. Bake for 20 minutes.
Optional:
In a bowl, combine white chocolate and 1 tablespoon vegetable oil and heat in the microwave for 1 minute and 30seconds. Stir to combine.
Place in the freezer for 15 minutes to set chocolate.
With a butter knife, remove white chocolate and spread on parchment paper to create a ghost. Repeat to create 6 ghosts.
Remove the ghosts from the freezer and with the icing marker, draw 2 eyes and a mouth on the ghosts.
Once brownies are baked, divide into 6 pieces. Peel ghosts off parchment paper and place on brownies.