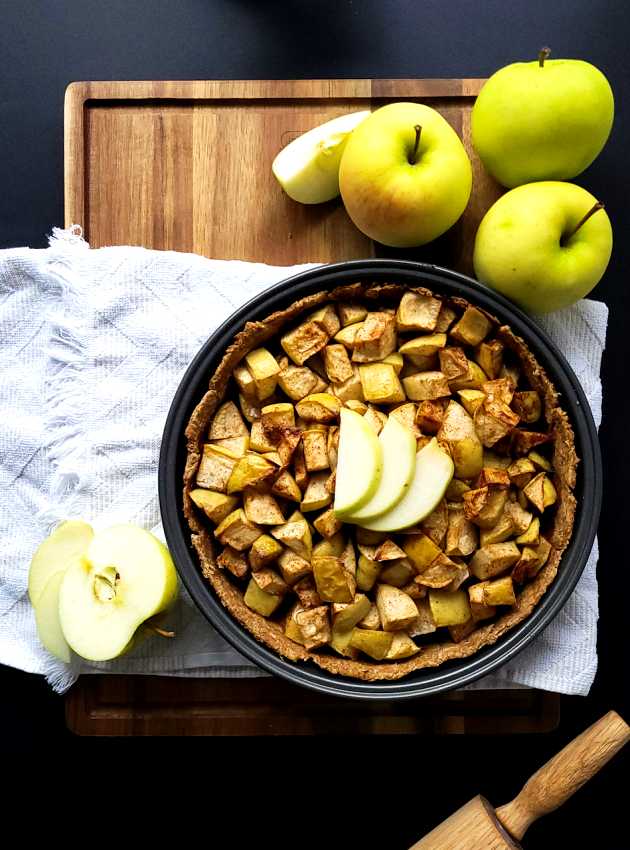 This famous apple pie will warm your hearts, whether as a dessert or an afternoon treat. The olive oil used to make the crust significantly reduces the saturated fat content of classic pies, so you can enjoy it with peace of mind for your cardiovascular health. A treat for the taste buds... and the body!
Ingredients
For the pie crust:
250 ml (1 cup) whole wheat flour
1 ml (¼ tsp) salt
60 ml (¼ cup) extra virgin olive oil
45 ml (3 tbsp) cold water
For the filling:
45 ml (3 tbsp) brown sugar
30 ml (2 tbsp) cornstarch
2.5 ml (½ tsp) ground cinnamon
1 ml (¼ tsp) ground nutmeg
5 assorted apples, cored and cut into approximately 2 cm (3/4 inch) cubes
Preparation
Preheat the oven to 375°F (190°C).
In a large bowl, mix the flour and salt. Set aside.
In a measuring cup, mix the oil and water. Pour over the dry ingredients and stir with a fork until the flour is moistened.
Using your hands, form a ball.
On a floured work surface or between two sheets of parchment paper, roll out the dough to a thickness of 3 to 4 mm (1/8 inch).
Cover the bottom of a 9-inch pie plate with the dough, using plastic wrap to transport it without it breaking. Fit the dough into the bottom and sides of the pie plate by tapping with your fingers, without stretching it. Set aside.
In a large bowl, mix the brown sugar, cornstarch, cinnamon, and nutmeg. Add the apples and mix well.
Pour the filling into the pie plate and bake for 45 minutes. Let it cool on a wire rack before serving.
Notes
Store in an airtight container in the refrigerator for up to 5 days. Freeze for up to 3 months.