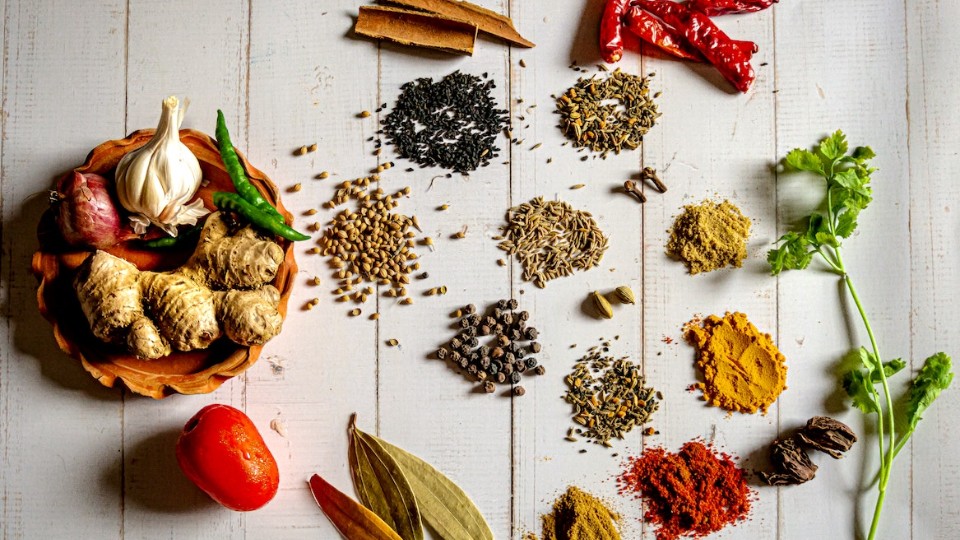 What could be better than preparing your own homemade spice blend? Aromas, flavors, and textures are all there. They are used to enhance the taste of food and make it exceptional. Making your own blend is simple and enjoyable. The flavor combinations are endless and allow us to control the amount of sodium we add to our recipes.
Making our own spice blends can have a significant impact on some health problems we may face, such as high blood pressure, irritable bowel syndrome and hyperthyroidism. 
Commercial spices are high in sodium (also called salt in common language), which has the impact of increasing water retention in your body and also increasing your blood pressure. 
Now, how can spices impact irritable bowel syndrome? Well, spices often contain garlic, onions and other foods that have an impact on IBS symptoms. Spices are foods high in FODMAPs, so making homemade blends helps control what we put into our recipes. 
Here are some suggestions to have on hand: 
Provençal herbs: 
These are a wonderful accompaniment to grilled meats, sauces, stews, roasts, fish, marinades, pastas and tomato-based dishes. Also, this blend of spices is ideal when you want to cook this delicious Napoleon-style lasagna. Simply measure and mix the following spices: 
45 mL (3 tbsp.) dried thyme
30 mL (2 tbsp.) dried marjoram
30 mL (2 tbsp.) dried rosemary
30 mL (2 tablespoons) dried savory 
15 mL (1 tablespoon) dried oregano
15 mL (1 tbsp.) dried tarragon 
Herbs de Provence spice blends are often high in salt. Our version with no added salt allows you to enhance the flavors of your dishes.
Cajun Spices: 
Perfect for accompanying grilled meats on the BBQ in the summer. Here's how to get this blend: 
30 mL (2 tbsp.) ground cumin
30 mL (2 tbsp.) ground coriander seeds
30 mL (2 tbsp.) ground paprika
15 mL (1 tablespoon) dried oregano
2.5 mL (1/2 teaspoon) salt
7.5 mL (1 1/2 teaspoons) pepper
Ground cayenne pepper to taste
This spice blend is a sodium-reduced version of commercial spices. 
Roasted vegetable blend: 
Excellent for seasoning vegetables in papillotes or on skewers. 
Simply mix 15 mL (1 tbsp.) coriander seeds, fennel seeds, dried chili flakes, black peppercorns, dried rosemary and dried oregano. 
This no-salt-added recipe adds flavor without increasing your daily sodium intake.
Spicy Spice Mix : 
Do you like to eat spicy food? How about a spicy blend to satisfy you! 
30 mL (2 tbsp.) cayenne pepper
30 mL (2 tbsp.) paprika
30 mL (2 tbsp.) black pepper 
15 mL (1 tablespoon) dried thyme
 7.5 mL (1 1/2 tsp.) nutmeg (optional)
 5 mL (1 teaspoon) iodized salt
This blend is excellent for grilling, especially with chicken and pork. The cayenne pepper provides the necessary spice to spice up any of your recipes.
Warm spice blend: 
Here's a blend that's out of the ordinary and packed with hearty flavors.
10 mL (2 tsp.) turmeric
10 mL (2 tsp.) cocoa powder
10 mL (2 tsp.) cinnamon 
2.5 ml (½ tsp.) ground nutmeg
You can use this spice blend in sweet recipes such as smoothies, oatmeal and baked goods to spice up the flavor or in savory recipes such as chili, sweet potatoes and butternut squash for extra sweetness. 
For more inspiration...
Whether it's for a blend of Mediterranean spices, Italian spices, Indian spices or Mexican spices, check out Team Nutrition's site for these recipes. For more suggestions, you can consult one of our dietitians by appointment.