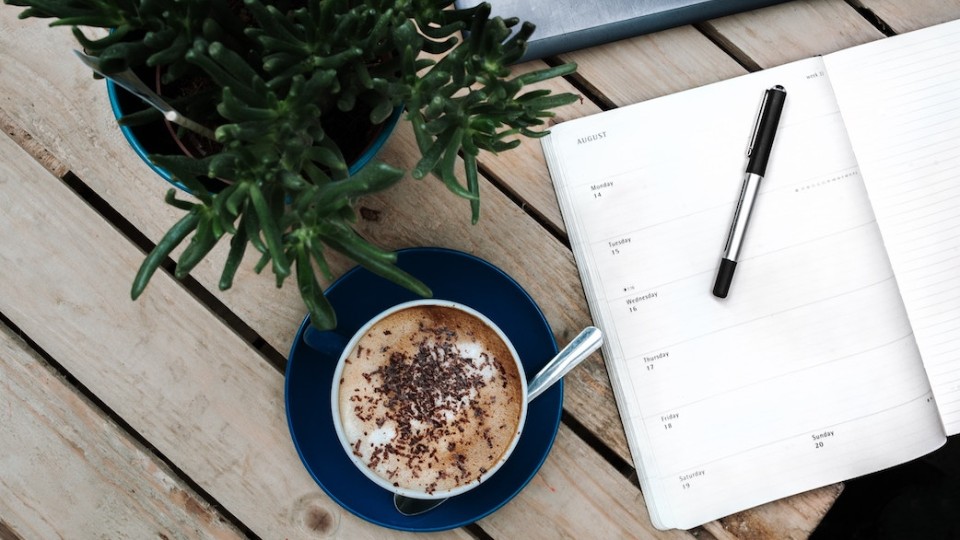 Vacations are now over, days shorten, evenings get more chilly… It smells like back-to-school! As BBQ and outdoor dining season are almost over, many have trouble going back to the metro-work-sleep routine. It's not easy to manage the stress of this transition. Here are 10 tips to make back-to-school or back-to-work easier.
1. Change habits gradually
Back-to-school is a good time to regain or establish good habits after loosening a little during the summer. But be careful not to have overly ambitious resolutions that might quickly fade away. To increase your chances to succeed, don't set too drastic goals. You find that you abused of happy hours? You'll be way more successful if your goal is to eat every other day instead of completely stopping.
2. Plan your meals and grocery shopping
Who has never ended up on a weekday at 5PM at the grocery store, exhausted, stressed out, with starving kids? To avoid this kind of frustrating situation, planning is key! Choose a moment to plan the menu for the week and write it down as priority in your agenda. You can then make the grocery list accordingly, while considering what's leftover in the fridge (and maybe consider what's on sale while we're at it!). After that, choose a time to grocery shop and buy only what's on the list.
3. Cook in batches on the weekends
Take advantage of less busy weekends to cook a few recipes and freeze them. They will be easily reheatable on busier evenings. Recipes like Shepherd's pie, lasagna and chili are ideal for this. You can also take advantage of the weekend to chop fruits and vegetables, to cook rice, quinoa or other grains and to marinate meat, fish and tofu. You will likely be relieved to gain a few minutes the weeknights of.
4. Overcome the lack of inspiration
The bare idea of planning a weekly menu seems like a herculean task because of your acute lack of inspiration? Begin inventorying your favorite meals today. If you're a paper person, gather your favorite recipes in a binder for easy access and take time to note down any adjustments you make and your family's comments. On the web, create a file with bookmarks of your favorite websites or recipes. Many websites like Pinterest and phone apps allow you to annotate recipes virtually. 
5. Get the whole family involved
It's normal to dread back-to-school if planning and execution tasks rely on a single pair of shoulders! Why not involve the whole family? Ask each member to choose a recipe for the weekly menu, let the children choose sides and snacks for their lunches and get them involved in dinner preparation. Dépending on their age, a child can accelerate preparation time considerably : wash fruits and veggies, measure ingredients, cut certain foods, etc. We save time and our children learn to cook as a bonus - sharing responsibilities is always a win!
6. Plan balanced, on-the-go breakfasts
Despite a full fridge and the best intentions, we can run out of time to eat breakfast on rush mornings. Our tip : plan a breakfast the day before that you will be able to eat at home or on the road to school or work, like overnight oats. Minute-breakfasts are also a good alternative when we're in a hurry. A fruit and yogurt smoothie, a banana rolled in a tortilla with peanut butter or simply hard boiled eggs with a granola bar and an apple are good alternatives! Other ideas here.
7. Make snacks easy to access
For kids and parents alike, snacks are essential to manage hunger and energy throughout the day. Unfortunately, they are easily neglected in the hustle and bustle of back-to- school and work. Our advice : keep a section of the fridge and pantry dedicated to easily-grabable snacks : individual yogurts and cheese, cut vegetables and fruits, fruit compotes, pre-portioned cereals and nuts, etc. It'll be even easier for kids and teens alike to participate in the making of their lunch!
8. Have basic foods on hand
When we keep a few key ingredients at hand, we make sure we're able to quickly prepare a healthy and balanced meal and resist the temptation to order at the nearest pizzeria. Canned lentils, tomato sauce and pasta? Everything you need for a delicious vegetarian spaghetti. Eggs, cheese and leftover veggies? Easily cook a frittata. The freezer is also a valuable ally - breads of any kind (pita, tortilla, sliced, etc.), meat, fish, tofu, edamames and frozen fruits and vegetables are great convenient foods. Here is a list of pantry essentials to keep at all times.
9. Take shortcuts at dinnertime
Sometimes, we should accept to take shortcuts to have meals that are ready more quickly and lets us gain time for our evening routine. For example, a whole cooked chicken from the grocery store, even if more salty and expensive than its homemade counterpart, can be added to pasta dishes or homemade pizzas, Pre-assembled skewers, pre-cut vegetables and grated cheese are also products that can facilitate our lives. It's important not to neglect the pleasure factor of dinner because it's also a good moment to spend time as a family. Even if we feel like we're always in a hurry, those quick shortcuts will allow you to save a few more minutes to enjoy dinner and relax.
10. Learn to live with chaos
Our final advice : tame the concept of letting go. Between after school activities, exams and overtime, you didn't have time to make the balanced dinner you planned? A cereal bowl for dinner once in a while is not the end of the world!
On that note, EquipeNutrition wishes you a great back-to-school!